Ford US Sales Jump In April and 2 Other Hot Stocks To Watch
Ford Motor Company (NYSE:F): Current price $13.45
The iconic automaker reports that domestic sales rose by 18 percent in April due to large demand for the recently redesigned Escape SUV, whose sales jumped by 52 percent to almost 26,000, marking the best April for the vehicle since it first went on sale 13 years ago. In addition, Ford's luxury Lincoln brand hinted at a rebound after years of slumping sales, as the new Lincoln MKZ sedan, which appeared in many showrooms in April, more than doubled its sales year-over-year from 2012.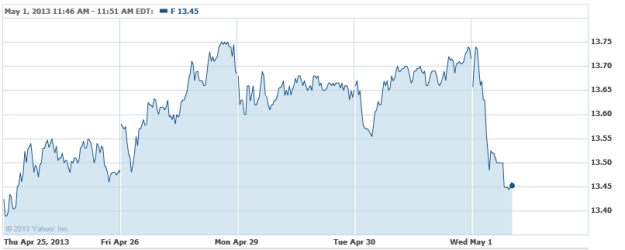 Oracle Corporation (NASDAQ:ORCL): Current price $33.50
On Wednesday, Oracle and Proteus Digital Health announced that Oracle has made a strategic minority investment in Proteus, a digital health firm. Proteus has developed ingestible and wearable sensors having FDA approval, and are sold as medical devices in the United States and Europe. The company has more than 500 patents and patent applications on digital health technologies and their uses, pending or issued in the United States and other countries. Pursuant with this investment, Oracle and Proteus expect to collaborate in clinical trials exclusively so as to give clinical investigators on a global basis the ability to measure information regarding medication ingestion, dose timing, and associated physiologic response continuously and precisely for patients who are enrolled in clinical trials.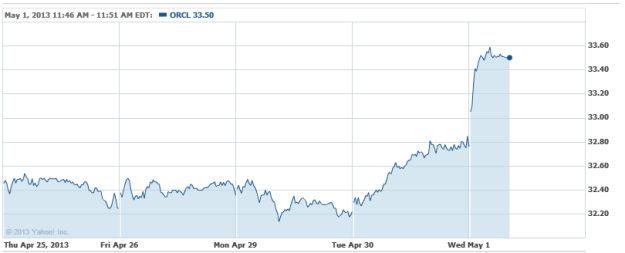 Chesapeake Energy Corporation (NYSE:CHK) Current price $19.25
SemGroup Corporation said Wednesday that it will purchase the equity interests of Mid-America Midstream Gas Services, a wholly-owned subsidiary of Chesapeake, which is the owner of gas gathering and processing assets in the Mississippi Lime play in a cash transaction of $300 million. The transaction should close by the third quarter, and is subject to certain regulatory approvals and closing conditions.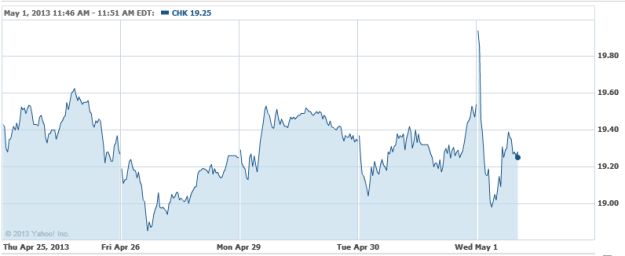 Don't Miss: Is Tesla Motors the Next Apple?