Ford Will Up Its Output of Added Models in Ontario and 2 Other Hot Stocks to Watch
Ford Motor Co. (NYSE:F): Current price $17.65
Ford's president of the Americas Joe Hinrichs announced in a statement that his company will spend $685 million to add the output of additional models at an Ontario vehicle-assembly facility, commenting that, "This investment is helping us find much needed capacity for global products." The automaker did not say which models will be added at the plant in the Toronto suburb of Oakville.
In 2012, Ford pledged to create some 600 jobs in Canada, which would include a partial third shift at Oakville in negotiations with the Canadian Auto Workers union. Presently, the plant produces models such as the Ford Edge and Lincoln MKT crossover vehicles, and Ford Flex wagon, says the company's website.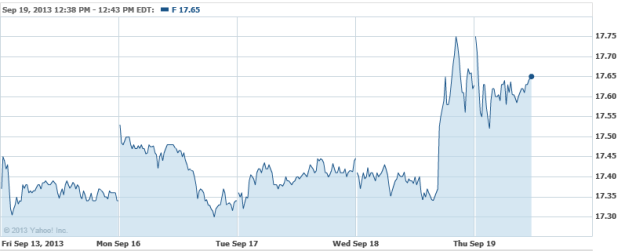 General Electric Co. (NYSE:GE): Current price $24.54
GE says it will shut an electrical components facility in Fort Edward, upstate New York, and move the work to Clearwater, Florida. According to local media outlets, the company gave union workers in Fort Edward notice on Wednesday that it could close by September of next year. The United Electrical, Radio, and Machine Workers of America and GE have a 60-day period to negotiate regarding the planned shutdown, and the union says it will fight it. The plant employs close to 180 hourly workers and 20 salaried staff manufacturing capacitors.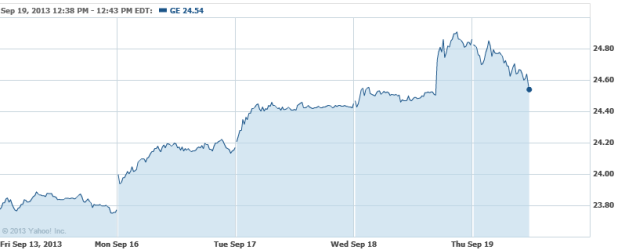 GT Advanced Technologies Inc. (NASDAQ:GTAT): Current price $8.17
GT Advanced shares are up more than 8 percent Thursday in very heavy volume after the stock was upgraded from Neutral to Buy at UBS, following survey results that show increased percentage of sapphire content in recently introduced mobile products like the iPhone 5S and Samsung smartwatch. The firm says that the acceleration should continue and raised the fiscal year 2014 and 2015 estimates above consensus. At the same time, UBS moved its price target up from $5.50 to $10.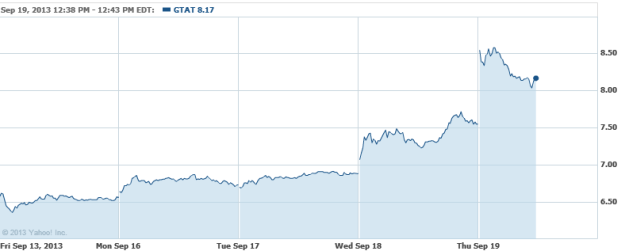 Don't Miss: 10 of Top Gear's Greatest Cars from the Last 20 Years.