Ford's 2014 Fiesta: The Most Fuel Efficient Non-Hybrid in the U.S.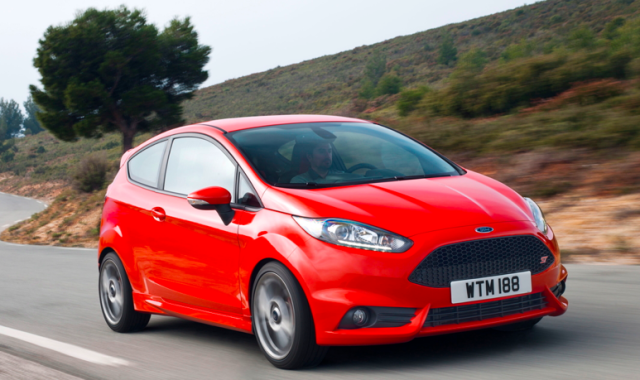 The Environmental Protection Agency shared good news for Ford Motors (NYSE:F) Tuesday, as regulators recognized the automaker's 2014 Fiesta as the most fuel efficient non-hybrid, gasoline car offered in the U.S. when it is equipped with Ford's 1-liter, three-cylinder EcoBoost engine. According to the Detroit News, the EPA certified that the Fiesta gets a combined 37 miles per gallon when fully equipped, and that highway fuel economy puts it ahead of domestic rival General Motors (NYSE:GM).
The car will go on sale in December starting around $13,770, but to secure the 1-liter manual transmission, consumers will have to pay about $2,700 more. Without it, the base Fiesta comes with a 1.6-liter, four-cylinder engine that gets a combined 32 miles per gallon, and the 1-liter is also available in a hatchback.
The distinction represents a significant advance for Ford as it continues to revive sales success after the financial crisis wrecked wanton and indiscriminate destruction on the car market in the late 2000s. The U.S. automaker is finally registering significant successes in both the U.S. and abroad, and competitors are taking note.
According to the Detroit News, Ford still has ground to cover when it comes to surpassing global rivals' fuel economy standards, but its latest recognition reflects that the Dearborn, Michigan-based company is at least now in the running, and that's much more than it could say a few years back.
In comparison to Ford's 2014 Fiesta, Honda's (NYSE:HMC) 2014 Insight — a hybrid, nonetheless — achieves 44 mpg highway, while Volkwagen's 2014 Golf diesel delivers 42 mpg, Detroit News points out. These vehicles both out-score the U.S. automaker's subcompact car, but it is at least a gap that is capable of being crossed by Ford once it continues expanding its fuel efficient line-up.
It is becoming increasingly necessary for automakers everywhere to invest in the efforts to boost their fuel economy as more and more consumers are showing an interest in the efficiency, and many analysts forecast that it is a trend that will only continue in the future. Ford is especially experiencing more interest from U.S. consumers on the nation's two coasts, and its compact, fuel-efficient offerings are the cars that are driving the highest demand. Both Ford and GM are working to revive U.S. consumer confidence in the automakers' vehicles, and if they can prove an ability to rival global companies' offerings, they have more of a chance than ever.
Don't Miss: Toyota Keeps Global Sales Crown Just Out of GM's Reach.