Ford's Big Hire, Siemens Encounters Turbulence, and 3 More Hot Stocks
Ford Motor Co. (NYSE:F): In order to accommodate growing demand for its F-Series pickups, Ford is adding 2,000 jobs to its Kansas City production facility. Housing industry booms have driven a demand for trucks, which have been selling superbly well so far this year. The company is also using the new labor force to help with its Transit cargo van, which is due to enter production in the fourth quarter. The average age of trucks on the road is at a record high as well, signaling continuing demand as people replace their dated vehicles.

Siemens (NYSE:SI): Siemens has made adjustments to its full year guidance, cutting it back in light of charges accrued from delayed trains and wind energy projects. Regarding the 4.5 billion-5 billion euro target, Siemens is looking at hitting closer to the lower end. The charges put a giant bump in Siemen's efforts to cut costs and speed up an admittedly slow response to the economic conditions facing Europe. "The economy is weaker but that is only part of the story," said London-based JPMorgan (NYSE:JPM) analyst Andreas Willi. The main reasons for the reduced forecast are "the project charges and weak underlying performance in some businesses that have backlog."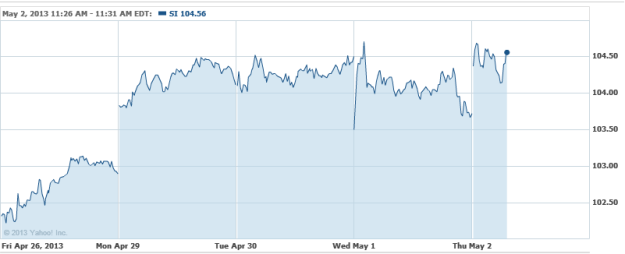 Sanofi-Aventis (NYSE:SNY): The French drug maker experienced nosediving profits, which clocked it at 34 percent down year-over-year. Generic competition to three of its base medicines in the U.S. put a dam in the company's cash flow, and has forced the company and its CEO to look for partnerships or acquisition opportunities to help offset the loss of drug exclusivity. Net income fell to 1.61 billion euros, or 1.22 euros per share, down from 2.42 billion euros, a year earlier, or about 1.83 euros per share.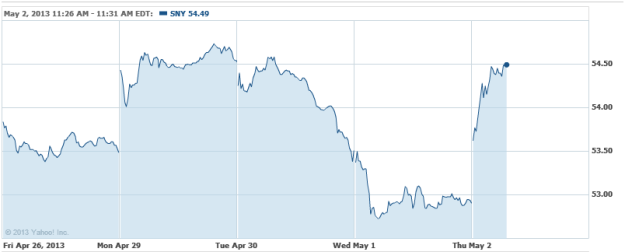 Royal Dutch Shell (NYSE:RDSA): Adjust net profits rose by 3 percent over the same period last year, to $7.52 billion, comforatably above the analyst consensus of about $6.5 billion. Revenues fell shy of last year's $119.9 billion, with $112.8 billion for the lastest quarter, though production remained flat year-over-year at 3.559 million BOE per day, in line with expectations. However, the real focus was on the announcement that CEO Peter Voser will be retiring his post next year.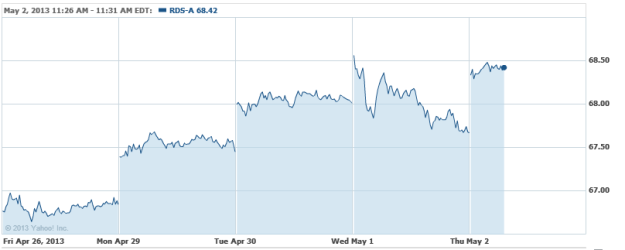 Yelp (NYSE:YELP): Shares are roaring over 20 percent in markets today, following last night's release of the quarterly figures which saw revenue beat estimates but earnings fall shy. Revenue adjustments to $216 million-$218 million, well above consensus of $211.8 million is the likely catalyst for such dramatic share movement.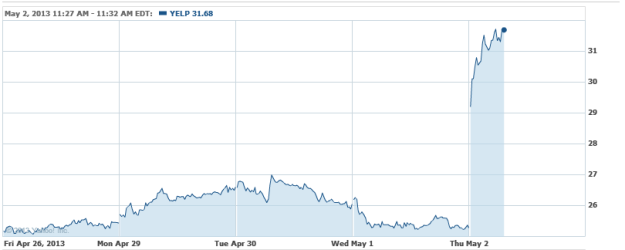 Don't Miss: Brawn Over Beauty: At Auctions, Ford Bronco Is the New Ferrari.