Ford's Looking At a Loss and 2 Hot Stocks to Watch
MetroPCS Communications (NYSE:PCS): Influential proxy advisory firm ISS have been backing opponents of MetroPCS Communications' proposed merger with T-Mobile USA, as they claim that the deal has undervalued the company and shareholders should vote against it. MetroPCS has decided to agree to the merger with the Deutsche Telekom unit in October but activist shareholders hold nearly 12 percent of its stock contest the terms and are campaigning for others assist in voting against it. Reports by Reuters say that the deal cannot close without approval from MetroPCS shareholders but in its favor, the company's second biggest investor Madison Dearborn, which holds about 8.3 percent, stated from the beginning that it supports the merger.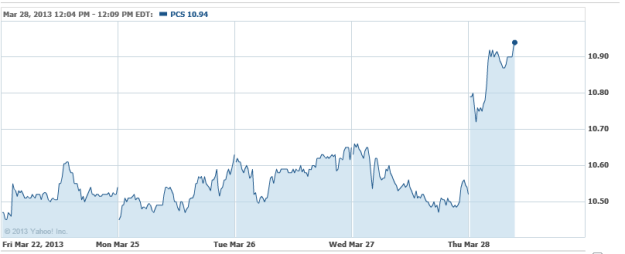 Ford Motor (NYSE:F): The company forecast a first-quarter loss totaling nearly $300 million for its South American operations due to currency exchange rates, inflation, and trade restrictions, Bloomberg reported. "Weakening currency and inflation pressure will challenge our profits and margins in 2013," Joe Hinrichs, Ford's president of the Americas, stated yesterday at a Bank of America Corp. auto conference in New York. The actions that have been taken by Brazil and Argentina to limit imports from Mexico have alsoe negatively affected sales of its Mexican-built Fusion and Fiesta cars, he said. The regional loss places additional pressure on Ford's operations in North America, where the company posted record pretax profit and operating margin for 2012.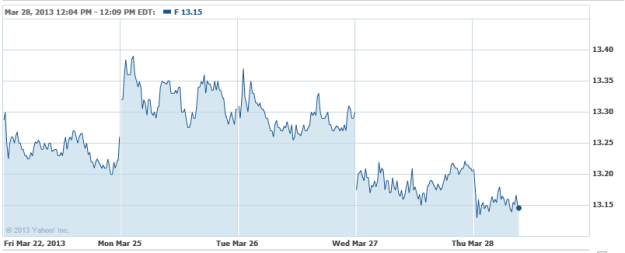 Microsoft (NASDAQ:MSFT): Windows Phone has outdone the iPhone in a number of countries, Microsoft claims. In a blog post, Microsoft corporate communications VP Frank Shaw cited an IDC report that indicates that Windows Phone has reached 10 percent market share in a number of countries. Along with that milestone, Windows Phone outshipped Apple's (NASDAQ:AAPL) iPhone in seven markets globally. In an interview with The New York Times, IDC analyst Kevin Restivo stated that fourth-quarter Windows Phone shipments surpassed those of the iPhone in Argentina, India, Poland, Russia, South Africa, and the Ukraine. The seventh market groups together a number of smaller countries, like Croatia, and is collectively known as "the rest of central and eastern Europe."

Don't Miss: Ford Issues Another Recall.