Ford's Market Value Reaches 14-Year High and 2 Other Hot Stocks to Watch
Ford Motor Co. (NYSE:F): Current price $17.53
During most of the day on Thursday Ford traded at a market capitalization of over $70 billion, a level not seen since 1999, placing the automaker closer to its historical peak, according to data compiled by Bloomberg. By contrast, Toyota closed on Thursday $30 billion short of its $254-billion high set in February 2007. The auto analyst Kevin Tynan at Bloomberg Industries observed that, "Not only is Ford challenging their own previous peak and are closer to it than Toyota, but Ford is competing with Toyota the way it wasn't before. It's a competitive landscape that Toyota really hasn't had to deal with in maybe 15 years."

Zynga Inc. (NASDAQ:ZNGA): Current price $3.94
Besides posting a smaller third-quarter loss than was expected on Thursday, Zynga recruited a gaming veteran to help remake its business, as it named Clive Downie as chief operating officer. Downie had been chief of Western operations at mobile-game maker DeNA, and previously worked over 15 years at Electronic Arts, at which he at one point oversaw marketing for several high-profile games. Zynga's Chief Executive Don Mattrick said that Downie's experience in publishing hit games, along with his success with mobile-device titles, makes him well suited for the position.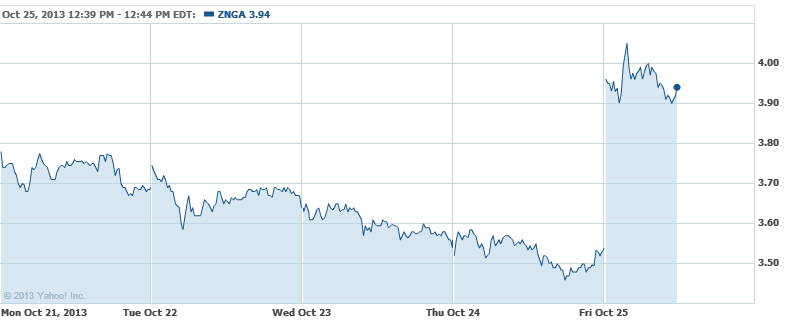 Qlik Technologies Inc. (NASDAQ:QLIK): Current price $27.39
Qlik shares are down more than 21 percent Friday in heavy trading, after the release of the cloud software maker's third-quarter results late Thursday, which showed its revenue falling $3 million short of estimates because of demand in Europe and Asia that was weaker than expected. The company's outlook for the current quarter also missed. In a conference call with analysts on Thursday, Qlik Chief executive Lars Bjork explained that revenue  from usually strong offshore regions fell short because of customers delayed their product orders.

Don't Miss: Nearly 50 Years On, Ford's Mustang Is Still Galloping.