Ford's Model Quarter, News Corp Sheds Local Paper Unit, and 3 More Hot Stocks
Ford Motor Co. (NYSE:F): Unit sales grew 12.2 percent during August over the same period last year to 221,270 versus estimates that called for a 10 percent gain. The Ford nameplate rose 12.7 percent while Lincoln sales were able to creep 0.6 percent higher. Trucks surged 18.4 percent while Utilities fell by 0.2 percent. Cars grew a healthy 17.5 percent. Retail sales saw the highest surge since 2006.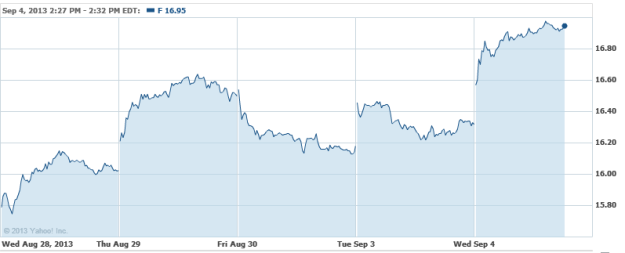 News Corp. (NASDAQ:NWSA): News Corp. sold the Dow Jones Local Media Group to an affiliate of Fortress Investment Group for an undisclosed amount. The group operates 33 local papers nationwide, primarily on the East Coast. "We are confident that the papers will prosper under the new owners, but they were not strategically consistent with the emerging portfolio of the new News," News Corp. CEO Robert Thomson said to The Wall Street Journal.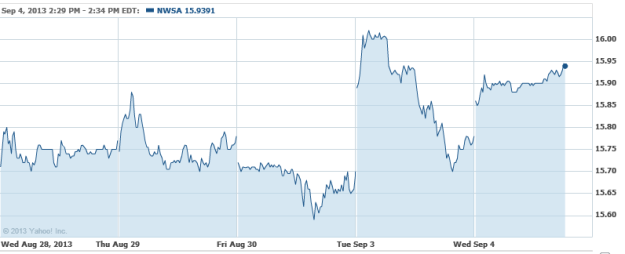 Dollar General (NYSE:DG): Dollar General reported that second-quarter same-store sales rose by 5.1 percent on improved store traffic and higher average transaction prices. The company claimed earnings per share of 77 cents, beating by 3 cents, and revenue of $4.39 billion, beating by $0.03 billion. Consumables outpaced non-consumables, with tobacco, candy, and snacks all performing strongly.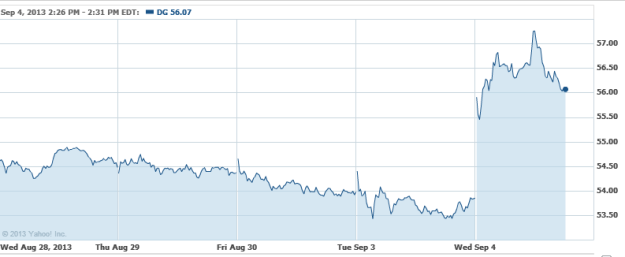 ConocoPhillips (NYSE:COP): ConocoPhillips said the International Center for Settlement of Investment Disputes ruled that Venezuela's seizure of of its crude oil projects in 2007 amounted to unlawful expropriation and was against the law. The company had rejected the terms laid out by the government, then led by Hugo Chavez, which forced overseas oil producers to form ventures as minority partners. ConocoPhillips had sunk $3.1 billion into the Petrozuata and Hamaca projects.

Immunogen (NASDAQ:IMGN): Immunogen was initiated with an Outperform rating by Leerink with "clinical success and recent regulatory approval of Kadcyla positioned [Immunogen] as the desired partner in the Antibody Drug Conjugate space," analyst Michael Schmidt said, adding that the company's standing has led to improved economics in its licensing deals.

Don't Miss: Top 9 Cars (and a Truck) With Best Resale Values for 2013.