Ford's Mulally Avoids Job Questions, TransCanada Resumes Shipments, and 3 More Hot Stocks
Ford Motor Co. (NYSE:F): CEO Alan Mulally, who is widely regarded as having navigated Ford through the fiscal crisis and turning the company's fortunes around, is not answering direct questions regarding his pursuit of jobs at Microsoft (NASDAQ:MSFT) or Boeing (NYSE:BA), instead insisting, "I love serving Ford." His contract with the automaker is scheduled to expire at the end of 2014. Interestingly, Mulally has held on to the CEO spot longer than anyone at Ford other than Henry Ford I and Henry Ford II.

TransCanada Corp. (NYSE:TRP): TransCanada has resumed its deliveries following a pipeline rupture in Alberta that reportedly caused at least four oil-sands producers to slow output and resulting in a spike in Canadian oil prices. TransCanada said that the North Central Corridor system has resumed gas shipments to "most" of its customers after isolating a pipe break and was working with others to restore service.

J.C. Penney (NYSE:JCP): Shares of J.C. Penney have slumped on a rumor that Export Canada has cut all credit to the retailer, though they have made some recovery after a J.C. Penney spokesperson said that the speculations were "unequivocally false." "Rumors about $jcp finances are completely false & constitute an attempt to manipulate the market by certain investors for personal gain," according to the company's Twitter account.
Safeway Inc. (NYSE:SWY): Safeway has renewed its stock repurchase program, up to a $2 billion allowance, and announced that it still has $800 million remaining under its previous buyback program.

BP (NYSE:BP): BP has appointed Richard Herbert — a former senior executive in BP's TNK-BP operation in Russia — as its new head of exploration to replace 28-year company veteran Mike Daly, who will retire at the end of the year. Herbert joined BP as an exploration geologist in 1984 and has held a number of senior technical and leadership positions since then.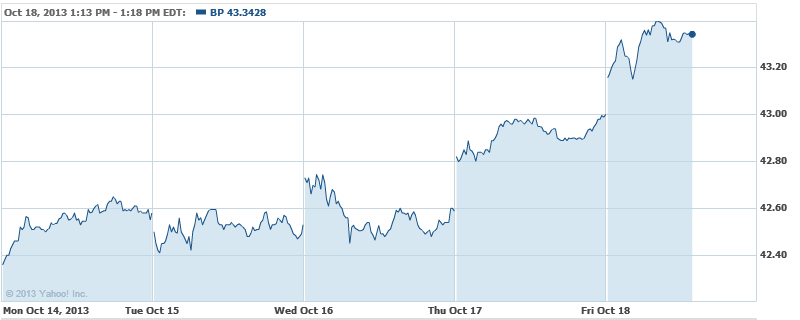 Don't Miss: GM Shows Q3 Growth Despite September Slip.