Ford's Strong Month, BofA Finishes Merrill Inclusion, and 3 More Hot Stocks
Ford Motor Co. (NYSE:F): General Motors reported a fairly mixed month of September, though that wasn't the case for Camp Ford, where unit sales grew 6 percent to 185,146, against estimates for a flat month. Ford saw a 62 percent surge in Fusion sales, while a 29 percent rise in Fiesta sales fueled its best September sales numbers since 2006. Ford's brand rose 6.3 percent, though Lincoln fell off by 5.1; the F-Series now has five straight months of monthly sales in the U.S. of more than 60,000, showing the resiliency of the pickup line.

Bank of America (NYSE:BAC): Bank of America has completed its transition of bringing Merrill Lynch into the parent company a bit earlier than planned, as BofA now assumes all of Merrill's obligations and debt, and eliminates the need for separate regulatory filings; however, the changes will have no effect on any Merrill operations or names on the letterhead.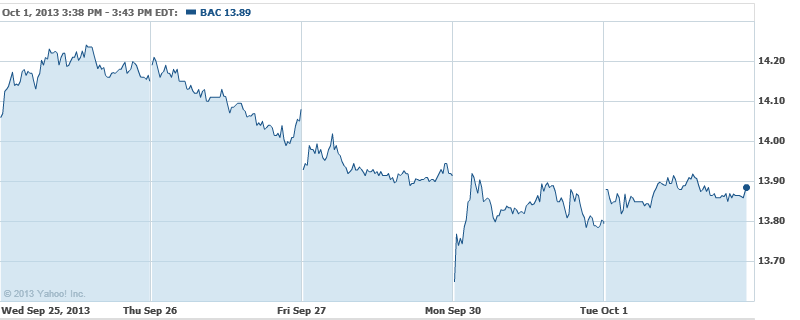 Wal-Mart Stores (NYSE:WMT): Wal-Mart has put the finishing touches on plans for an expansive fulfillment center dedicated to online orders as it prepares to step up its online business. The facility, located in Pennsylvania, is over 1 million square feet and should be ready for opening during the first quarter of 2014.

United Technologies Corp. (NYSE:UTX): United unit Pratt & Whitney has landed a contract to supply weapons systems spare parts to the Army, Navy, Air Force, and Marine Corps in a deal worth as much as $2.5 billion. The contract takes effect through the end of September in 2018.

News Corp. (NASDAQ:NWS): News Corp.-owned HarperCollins has launched an e-book subscription service with partner Scribd, which will allow a Netflix-type model to be applied to the e-book segment; though it's been tried before, "the HarperCollins-Scribd version of new media meets old media is a fresh spin," Seeking Alpha says. Scribd sports 80 million users.

Don't Miss: Can Ford Steal Corvette Thunder With This New Mustang?