Ford's Strong Quarter, AT&T's Subscriber Adds, and 3 More Hot Stocks
Ford Motor Co. (NYSE:F): Ford shares are rising as the automaker announced earnings per share of 45 cents with revenues of $36 billion, the latter beating by $1.93 billion as strong demand in North American and Asian markets spurred gains in revenue and wholesale volume. Ford's operating margin expanded by 70 bps, while the pretax loss in Europe narrowed substantially, to $228 million, as Ford bettered its market share based on stronger volume. Notably, Ford is reportedly expecting its 2013 profits to be higher than those in 2012.

AT&T Inc. (NYSE:T): AT&T shares are trading around flat at open in the wake of the telco's quarterly report, which saw 363,000 wireless postpaid net adds in the third quarter, down from 551,000 in the second quarter and 398,000 in the first quarter. New Aio and GoPhone service plans spurred AT&T's prepaid net adds to 192,000, up from 11,000 in the quarter previous. In other businesses, 655,000 U-verse Internet subscribers and 265,000 U-verse TV subscribers were added, versus the 641,000 and 233,000 in the last quarter, pushing the total U-verse subscriber base above 10 million.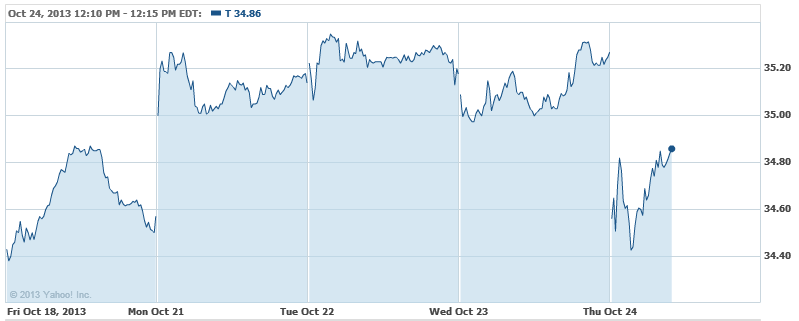 Exxon Mobil Corp. (NYSE:XOM): Exxon has commenced production at its 4.5 billion Australian dollar Kipper-Tuna-Turrum project, located off Victoria, Australia. The Turrum field is expected to hold roughly 110 million barrels of oil and 1 trillion cubic feet of gas, and is due on stream next year; Kipper is estimated to hold about 620 billion cubic feet of gas and 30 million barrels of condensate, though it will not be brought on stream until 2016.

Target Corp. (NYSE:TGT): Target is aiming at the more price-conscious consumers for this holiday season by highlighting the prices of various goods and items in nearly all of the 20 television commercials that it has slated to roll out prior to the big rush. This would be the first instance of Target parading its prices through its advertising since 2002 as the company strives to remind customers that it's as wallet-friendly as ever.

Imax Corp. (NASDAQ:IMAX): Imax has reported EPS of 6 cents, beating by 2 cents, though revenues of $51.7 million missed the mark, by $0.9 million. However, Imax was able to smooth out some of its SG&A expenses (contributing to the earnings beat), as the company brought in 99 new contracts for theatre systems and actively installed 28; IMAX ended the period with 356 theaters in backlog.
Don't Miss: Nearly 50 Years On, Ford's Mustang Is Still Galloping.