Foreign Investors Return to U.S. as Taper Talk Heats Up
Foreign residents increased their holdings of U.S. securities in July, according to the Treasury International Capital report. The U.S. Treasury reports that net foreign acquisitions of U.S. securities by all foreign investors — both private and public — was $56.7 billion, a substantial increase over the net outflow of $67 billion experienced in June.
The TIC tracks the flows of financial instruments such as Treasury securities, agency securities, corporate bonds, and corporate equities in and out of the U.S. Broadly speaking, the TIC provides a measure of foreign demand for U.S. debt and assets. Strong inflows will put downward pressure on interest rates and help maintain a strong dollar. Keep in mind that the data are released with about a two-month lag time.
This information is still relevant to investors because of its impact on bond and foreign exchange markets. Given the relatively low levels of foreign ownership of U.S. equities, the report is not as relevant to the equity investors.
TIC data can have a direct impact on interest rates in the U.S. as well as the dollar of the value. In early trading Tuesday, the yield on the 10-year Treasury note was down by 0.012 points at 2.862 percent. Yields have come down slightly over the past few days, cooling off after a dramatic rise that began in May, after yields fell as low as 1.63 percent.
In general, strong demand for U.S. securities places downward pressure on interest rates. However, while net inflows in July may have an effect in the short-term, what's really setting the tone for the interest rate environment in the U.S. is the Federal Reserve — more specifically, the Federal Open Market Committee — which is currently engaged in the first day of a two-day policy meeting.
Many economists expect Fed policymakers to announce a reduction in the pace of asset purchases at the conclusion of the meeting Wednesday. This speculation has contributed to the dramatic increase in interest rates over the past few months.

It's worth pointing out that the amount of federal debt held by foreign and international investors has increased dramatically over the past few years. Data compiled by the Federal Reserve Bank of St. Louis and the White House Office of Management and Budget show that foreign holding of federal debt has increased to nearly 35 percent of gross domestic product, climbing sharply during and after the late-2000s recession.
This change has coincided with a fairly dramatic increase in the U.S. federal deficit and debt.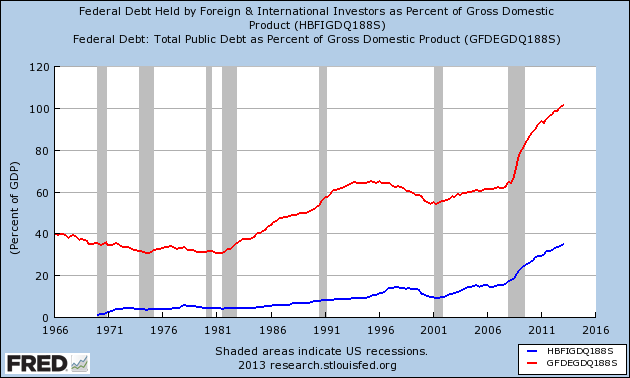 Don't Miss: Is Dodd-Frank Helping Financial Stocks Post-Lehman?