Forest Laboratories Earnings Cheat Sheet: Very Strong Quarter As Share Rise
S&P 500 (NYSE:SPY) component Forest Laboratories, Inc. (NYSE:FRX) reported its results for the fourth quarter. Forest Laboratories Inc. and its subsidiaries develop, manufacture and sell prescription drug products. Now that Carl Icah's hedge fund disasters has finished unwinding, FRX can climb back to its potential.
Don't Miss: Wall St. Cheat Sheet's newest Feature Trades of the Month>>
Forest Laboratories Earnings Cheat Sheet for the Fourth Quarter
Results: Net income for the drug manufacturer rose to $322.5 million ($1.12/share) vs. $22.6 million (8 cents/share) YoY. A substantial increase from the year earlier quarter.
Revenue: Rose 13.4% to $1.14 billion YoY.
Actual vs. Wall St. Expectations: FRX (NYSE:FRX) beat the mean analyst estimate of $1.07/share. Estimates ranged from 91 cents per share to $1.22 per share.
Quoting Management: Howard Solomon, Chairman and Chief Executive Officer of Forest, said: "Fiscal 2011 was a busy and successful year for our Company. The year was highlighted by solid financial performance; three important product approvals including the approval and launch of Teflaro; the successful completion of additional Phase III clinical trials for aclidinium and linaclotide confirming the efficacy and safety reported in previous studies for both products; the completion of four new business development agreements that will provide additional future growth opportunities; and the announcement of our acquisition of Clinical Data, Inc. that brings an exciting ready-to-launch product – ViibrydTM, and an interesting development pipeline to our Company."
Key Stats: The company has now seen net income rise in three-straight quarters. In the third quarter, net income rose 52.5% and in the second quarter, the figure rose 53.3%.
Gross margins grew 1.1 percentage points to 79.1%. The growth seemed to be driven by increased revenue, as the figure rose 13.4% from the year earlier quarter while costs rose 7.5%.
Over the last five quarters, revenue has increased 6.6% on average year over year. The biggest increase came in the most recent quarter, when revenue rose 13.4% from the year earlier quarter.
Competitors to Watch: Eli Lilly & Co. (NYSE:LLY), GlaxoSmithKline plc (NYSE:GSK), Merck (NYSE:MRK), Clinical Data (NASDAQ:CLDA), AstraZeneca (NYSE:AZN), Johnson & Johnson (NYSE:JNJ), Lannett Company (AMEX:LCI), Mylan (NASDAQ:MYL), Watson Pharma (NYSE:WPI), Impax (NASDAQ:IPXL), Par Pharma (NYSE:PRX), Abbott Labs (NYSE:ABT) and Pfizer Inc. (NYSE:PFE).
Today's Performance: Shares of FRX (NYSE:FRX) are trading at $33.68 per share: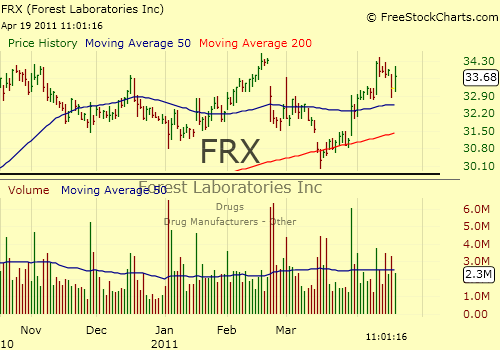 Don't Miss Wall St. Cheat Sheet's newest Feature Trades of the Month!