Forest Oil Corporation Earnings: Four Quarters of Revenue Increases Ends
Forest Oil Corporation (NASDAQ:FST) reported its results for the first quarter. Forest Oil Corporation is an independent oil and gas company engaged in the acquisition, exploration, development, and production of natural gas and liquids mainly North America.
Don't Miss: Wall St. Cheat Sheet's newest Feature Trades of the Month!
Forest Oil Earnings Cheat Sheet for the First Quarter
Results: Swung to a loss of $3.3 million (3 cents/diluted share) in the quarter. The Forest Oil Corporation had a net income of $109.2 million or 97 cents per share in the year earlier quarter.
Revenue: Fell 8.6% to $202.6 million YoY.
Actual vs. Wall St. Expectations: FST reported adjusted net income of of 19 cents/share. By that measure, the company fell short of mean estimate of 33 cents/share. Estimates ranged from 25 cents per share to 41 cents per share.
Quoting Management: H. Craig Clark, President and CEO, stated, "The overall results from the first quarter of 2011 were as projected, taking into consideration the movement of rigs in the Texas Panhandle and downtime due to winter weather. We continue to utilize our asset portfolio approach, focusing on the highest margin projects."
Key Stats:
A year-over-year revenue decrease last quarter snaps a streak of four consecutive quarters of revenue increases. The best quarter in that span was the third quarter of the last fiscal year, which saw revenue rise 18.7%.
FST's loss in the latest quarter follows profits in the previous three quarters. The company reported a profit of $16.2 million in the fourth quarter of the last fiscal year, a profit of $68.9 million in the third quarter of the last fiscal year and $33.3 million in the second of the last fiscal year.
Competitors to Watch: EOG Resources, Inc. (NYSE:EOG), Anadarko Petroleum Corp. (NYSE:APC), GeoMet, Inc. (NASDAQ:GMET), Carrizo Oil & Gas, Inc. (NASDAQ:CRZO), Magellan Petroleum Corp. (NASDAQ:MPET), Devon Energy Corporation (NYSE:DVN), Quicksilver Resources Inc (NYSE:KWK), Gulfport Energy Corp. (NASDAQ:GPOR), Linn Energy, LLC (NASDAQ:LINE), and Approach Resources Inc. (NASDAQ:AREX)
Stock Performance: Shares of FST are down 0.45% in after hours trading.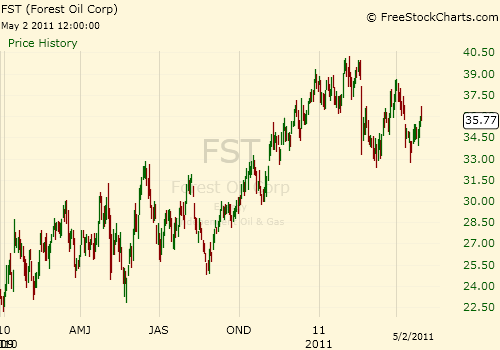 Don't Miss Wall St. Cheat Sheet's newest Feature Trades of the Month!