Former Facebook Ad Exec Joins Spotify and 2 Other Hot Stocks to Watch
Facebook (NASDAQ:FB): Current price $25.26
Facebook's former advertising director, Sunita Kaur, will become director for Asia at the streaming music service Spotify. Kaur arrives at Spotify as it gets ready for a larger move into the Asia Pacific region following its April intro in eight new markets, among them Hong Kong, Malaysia, and Singapore. Along with managing Spotify's Asian growth, Kaur's duties will have her leading the region's sales division.

Sprint Nextel Corp. (NYSE:S): Current price $7.12
Sprint reported on Tuesday that it successfully finalized its acquisition of full ownership of Clearwire. The merger agreement was first announced in December and Clearwire shareholders approved the transaction at a special meeting held Monday, with the transaction closing and becoming effective Tuesday. Each share of Class A common stock of Clearwire automatically converted into the right to receive $5 per share in cash. The common stock of Clearwire will no longer be listed for trading on the Nasdaq stock exchange, and the company expects no further trading after the close today.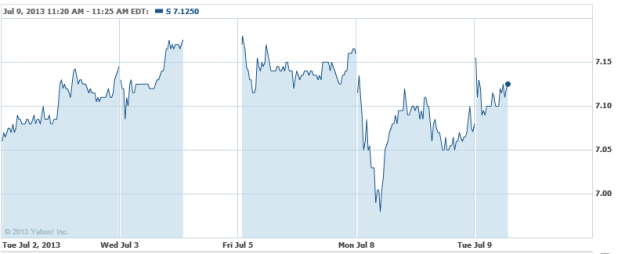 Citigroup Inc. (NYSE:C): Current price $49.88
Citi along with the sponsor and trustee of the EMI Group Pension Fund have completed the biggest pension insurance buyout in the United Kingdom with Pension Insurance Corp., a specialist provider of insurance solutions for defined benefit pension funds. The transaction covers 1.5 billion pounds in liabilities and 20,000 members. The agreement enables the trustee to insure all liabilities of the fund with Pension Insurance Corp., giving certainty to members and all of the parties involved.