Former Fund Manager Charged With Dell Insider Trading and 2 More Heavily Traded Stocks to Follow
Dell (NASDAQ:DELL): Current price $13.48
On Friday, the Securities and Exchange Commission charged a former fund manager and the wealth management firm, Whittier Trust Co., with allegedly trading on insider information in Dell and Nvidia Corporation (NASDAQ:NVDA). The SEC claims that former fund manager Victor Dosti used non-public information gotten from Dell and Nvidia employees to trade in advance of five quarterly earnings announcements in 2008, 2009, and 2010. Dosti allegedly obtained profits and averted losses in excess of $475,000 for Whittier Trust funds, according to the Commission.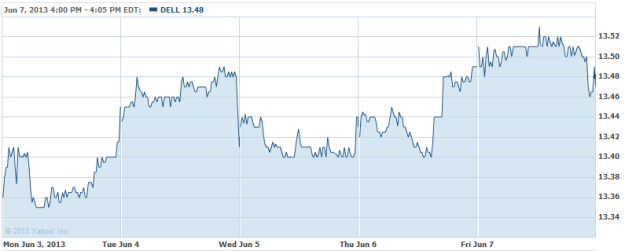 Thermo Fisher Scientific (NYSE:TMO): Current price $84.58
The scientific instrument maker Thermo Fisher has raised $2.2 billion from an offering of over 25 million shares, and the firm expects to employ the proceeds to help fund its acquisition of Life Technologies Corp. The firm said on Friday that it priced the offering at $85.50 per share, and is granted underwriters a 30-day option in which to buy an additional 3.8 million shares to cover any excess demand. The latter could bring an additional $330 million, excluding discounts and commissions.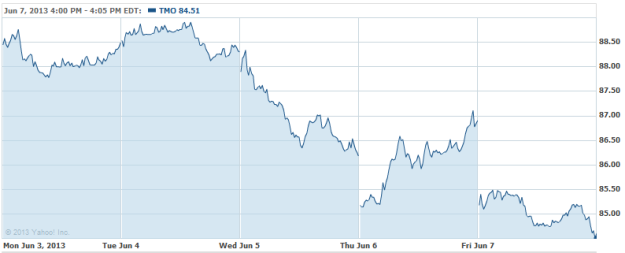 Iron Mountain (NYSE:IRM): Current price $28.95
Two tech firms who intend to convert into real estate investment trusts, Iron Mountain and Equinix (NASDAQ:EQIX), have reported that the Internal Revenue Service is scrutinizing their eligibility, weighing whether to narrow the legal definition of real estate for the purposes of converting to a trust, according to separate regulatory filings. Businesses such as data centers and billboard owners are switching to REITs, which are subject to lower taxes and pay higher dividends than other companies, and the IRS is thus considering whether to restrict the types of enterprises that may qualify.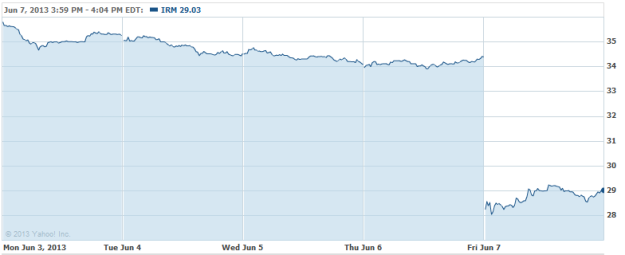 Don't Miss: 4 Ways Americans Are Financially Illiterate.