Freeport-McMoRan Rallies Hard in October
With the US dollar (NYSE:UUP) falling off its recent highs, commodities (NYSE:RJI) such as gold (AMEX:GLD), silver (AMEX:SLV) and copper (NYSE:JJC) have come back into focus.  One company that stands to benefit from the rally is Freeport-McMoRan Copper & Gold (NYSE:FCX).
Despite ongoing strikes and production issues, shares of FCX are trading much higher than they were at the beginning of October.  After hitting a 52-week low of $28.85 on October 4, shares of FCX have rallied 48% to $42.68.  As the chart below shows, shares are now meeting resistance near $42.50.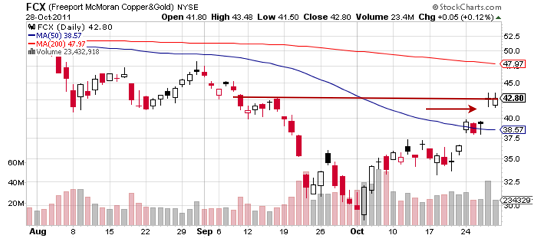 On Friday, Bloomberg reports, "Workers at Freeport's Sociedad Minera Cerro Verde SAA copper mine, who have been on strike since Sept. 29, may be forced by the regional government to accept arbitration if no agreement is reached by the second week of November, William Camacho, a union official, said in an interview today. Under Peruvian law, employees must return to work during the arbitration process."  On the downside though, shares of FCX received a downgrade from Buy to Hold by Standpoint Research.  Investors looking to take advantage of any pullback should keep an eye on the gap near $40, and long-term support at $30.
For investors seeking more detailed professional analysis on copper and other commodities, we invite you to try our premium service free for 14 days.