Friday Afternoon Cheat Sheet: 3 Stories That Moved Markets
The U.S. equity markets closed on a mixed note on Tuesday. On average, earnings continued to top estimates, but notably Coca-Cola (NYSE:KO), which reported before the markets opened, closed the day off about 2.7 percent after reporting a decrease in sales volume.
At the close: DJIA: +0.34%, S&P 500: +0.16%, NASDAQ: -0.17%.
Here are three stories that helped move the markets on Tuesday: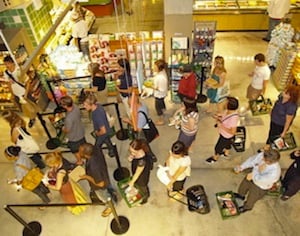 1) Retail sales for the first week of February were lower than usual for this time of year because of the blizzard that slammed the Northeast at the end of the week. The ICSC-Goldman and Redbook retail sales reports both showed a drop in year-over-year sales growth for the week ended February 19, and both cited the storm as the cause. ICSC reported a 2.1 percent year-over-year increase for the period, which compares to 2.6 percent gain in the previous year.
Week-over-week sales also took a hit, falling 2.5 percent for the first week of the month… (Read more.)
2) The Treasury reported on Tuesday that the U.S. government ran its first January surplus in five years. Total government receipts came in $2.88 billion higher than total outlays, fueled by increased revenue derived from tax hikes on high-end personal incomes and the expiration of the payroll tax holiday. All said, receipts increased 16.17 percent year-over-year, while outlays increased just 2.90 percent.
The January budget report is a positive indicator, but the government is still running a fiscal year-to-date deficit of $290 billion… (Read more.)
3) Speaking of the deficit, that's exactly what 20 percent of American voters want President Barack Obama's top priority to be in his State of the Union address, scheduled for this evening. A total of 55 percent of respondents in a Quinnipiac University national poll want to hear the president address either the economy or the deficit in his speech, with gun policy, health care, and foreign policy rounding out the top five subjects.
With the national debt sitting over $16 trillion, January's modest surplus won't give the President much leeway with fiscal conservatives who are demanding that entitlements be addressed now that a tax agreement has been reached… (Read more.)
Don't Miss: What Do Top Executives Think About the Economy?