Friday Morning Cheat Sheet: 3 Stories Moving Markets
Markets were mixed in Asia on Friday. Japan's Nikkei closed up 0.89 percent after a volatile trading session. Investors seem worried that the bull run in Japanese equities may be running out of steam just as the Bank of Japan gives gas to its latest stimulus plan. In Hong Kong, the Hang Seng declined 0.23 percent, while the S&P/ASX 200 fell 1.56 percent in Australia.
European markets edged lower in mid-day trading. First-quarter GDP growth in Germany came in exactly as expected at +0.1 percent on the quarter and -0.2 percent on the year. Germany's DAX was off 0.78 percent, London's FTSE 100 was off 0.67 percent, and the STOXX 50 index was off 0.42 percent.
U.S. futures at 8:20 a.m.: DJIA: -0.28%, S&P 500: -0.48%, NASDAQ: -0.46%.
Here are three stories to keep an eye on:
1) German Business Outlook Improves: The Ifo Business Climate Survey is a monthly report compiled from the responses of about 7,000 businesses based in manufacturing, construction, wholesale, and retail, and is used as a leading indicator of German economic conditions. Germany is Europe's largest economy, and in many ways, the Ifo report sets the tone for business conditions in the European Union.
In May, the index printed its first increase after two consecutive periods of declines. The Ifo group commented, "The firms are clearly more satisfied with their current business situation than in the previous month. The outlook for future business is unchanged and slightly positive. The German economy remains on track in a challenging European environment."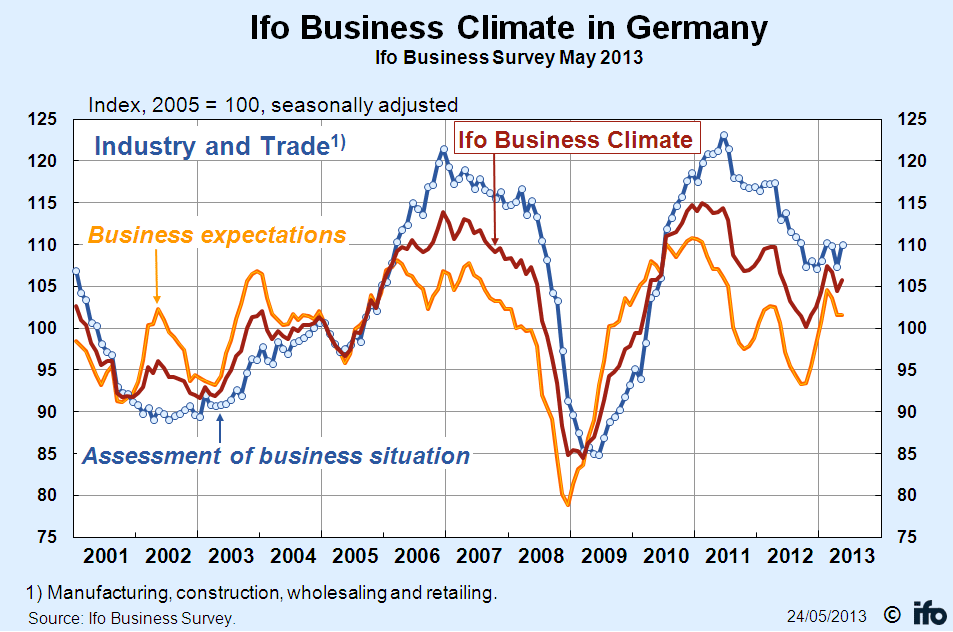 2) That said, French business sentiment is also important. The National Institute of Statistics and Economic Studies reports monthly on the business climate in France. As the second-largest economy in the region and sometimes opposed with Germany on certain policy points, investors can go a long way in rounding out their understanding of the region by keeping an eye on the Insee business climate indicator.
For May, Insee reported that the French business climate remains deteriorated with an unfavorable dynamic. The index printed at 84, below its long-term average of 84.
3) You Should Listen to Warren Buffett On Economic Moats: Warren Buffett once said, "In business, I look for economic castles protected by unbreachable moats." The castle is a metaphor for a company, and the moat represents a strong competitive advantage. Naturally, a wider moat offers more protection in the long-term. The Oracle of Omaha has provided a great deal of wisdom over the years, but this piece of insight is more evident than ever.
Corporate America is a battlefield with an endless supply of warriors trying to breach moats in pursuit of profits. In a 2007 letter to shareholders, Buffett explains… (Read more.)
Don't Miss: Watch Out For These Hazardous Retirement Potholes.