Friday Morning Cheat Sheet: 3 Stories Moving Markets
The markets were mixed in Asia, with the Nikkei closing up 1.40 percent (see why below), while the Hang Seng closed down 0.39 percent and the S&P/ASX 200 closed down 0.29 percent. European markets are also mixed heading into the opening bell in New York. The DAX was down fractionally, while the FTSE 100 was +0.16 percent.
At 8:25 a.m.: S&P 500: +0.00%, Dow: -0.04%, NASDAQ: +0.01%.
Here are three stories that will help shape markets today:
1) Economists are predicting that the German economy shrank 0.8 percent in the fourth quarter. The country is expected to publish preliminary GDP results for 2012 next week, but officials are warning that "the tough European environment has dampened German economic growth," adding, "according to indicators, one should expect a significant decline in economic performance for the final quarter of the year."
Start 2013 better than ever by saving time and making money with your Limited Time Offer for our highly-acclaimed Stock Picker Newsletter. Get our fresh Feature Stock Pick now!
The strength of the German economy has been critical to the beleaguered euro-zone recovery, and any weakness could have wide-spread effects.
2) As expected, Japan's government has approved a massive stimulus plan. Prime Minister Shinzo Abe's prescription to fix Japan's stalled economy is a 10.3 trillion yen ($117 billion) direct-spending stimulus package — sound familiar? Combined with spending programs by local governments and private-sector firms, officials estimate that total spending could total about twice that. The stimulus is aimed at public works, corporate investment incentives, and financial aid for small- to mid-sized businesses, with specific targets of 2 percent inflation (the yen is currently deflating) and the creation of 600,000 jobs. Japan's economy, the third-largest in the world, contracted 0.6 percent in the fourth quarter.
3) Long-term unemployment in the United States could finally be falling, if you look at the percentage of long-term unemployed compared to the total unemployed. According to the Department of Labor, that rate was 39.1 percent in December, the first time it has dropped below 40 percent in three years — but the number of those without a job for 27 weeks or more remained flat at about 4.8 million. The civilian labor force participation rate and the employment-population ratio were both also flat, at 63.6 percent at 58.6 percent, respectively.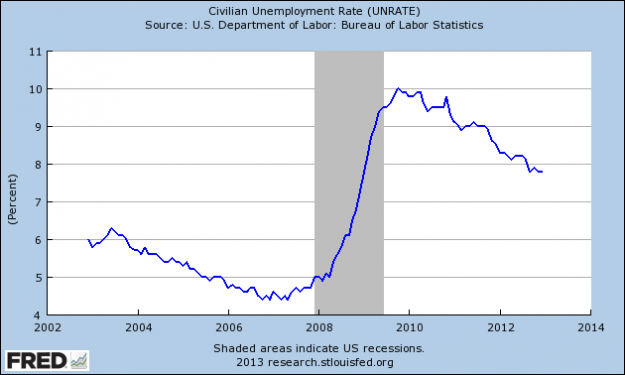 Don't Miss: Post-Fiscal Cliff: Congress Less Favorable Than Cockroaches.