Friday Morning Cheat Sheet: 3 Stories Moving Markets

Markets advanced in Asia on Friday as investors bought yesterday's dip. Japan's Nikkei index climbed 1.94 percent after falling 6.35 percent on Thursday. The yen weakened slightly to trade at 94.8920 to the dollar. In Hong Kong, the Hang Seng climbed 0.39 percent, while the S&P/ASX 200 climbed 2.04 percent in Australia as investors took positions in large-cap companies.
Markets also advanced in Europe in mid-day trading on Friday following the bounce in Asia, although gains were modest. Germany's DAX was up 0.48 percent, London's FTSE 100 was up 0.08 percent, and the STOXX 50 index was up 0.32 percent.
U.S. futures at 8:45 a.m.: DJIA: -0.09%, S&P 500: -0.08%, NASDAQ: -0.01%.
Here are three stories to keep an eye on.
1) G20 GDP Growth Accelerates… Modestly: The Organization for Economic Cooperation and Development reported on Friday that first-quarter GDP grew by 0.7 percent on the quarter and 2.4 percent on the year in the G20 area. Perhaps unsurprisingly, China had the highest rate of growth (+7.7 percent) while Italy had the largest contraction (-2.3 percent).
The report points out that the aggregate growth rate among the G20 nations "continues to mask diverging patterns across the world's largest economies." This is in reference to the accelerating growth rate in countries like Turkey (up from +0.1 to +1.6 percent), Japan (up from +0.3 to +1.0 percent,) and the United States (up from +0.1 to +0.6 percent), and slowing growth in major European nations like France and Germany.
2) Inflation Indicators: As expected, inflationary pressures across the euro zone remained relatively weak in May. Eurostat, the statistical office of the European Union, reports that the annual inflation rate in the euro area was 1.4 percent in may, up from 1.2 in April and down from 2.4 percent in the year-ago period. Annual inflation across the broad European Union was 1.6 percent in May, up from 1.4 percent in April and down from 2.6 percent in the year-ago period.
The largest upward impacts on euro area annual inflation came from fruit and vegetables (+0.11 percentage points each) and electricity (+0.09), while fuels for transport (-0.28), telecommunications (-0.18) and medical and paramedical services (-0.08) had the biggest downward impacts.
3) Do Top U.S. Executives Believe A 'Recovery' is Taking Place? There is no doubt that the U.S. economy is still struggling to make a convincing recovery from the credit meltdown. Asset prices have been pushed higher by the Federal Reserve, and the labor market is failing to keep pace with population growth. However, the latest report on sentiment from chief executive officers predicts a slight improvement for certain areas of the economy over the next six months.
The Business Roundtable, which is an association of chief executive officers of leading U.S. companies, recently published its second-quarter CEO Economic Outlook Survey. The survey was completed between May 13 and May 31, and provides a forward-looking view on the economy… (Read more.)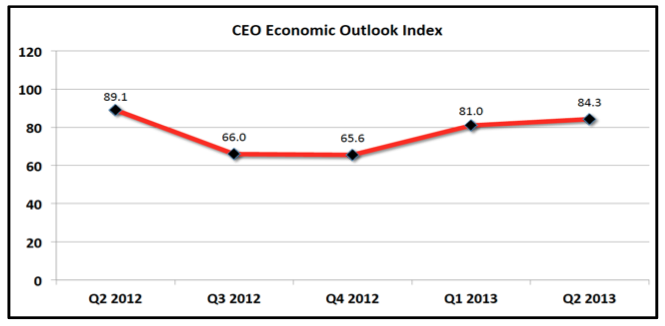 You can follow Dan on Twitter (@WscsDan)
Don't Miss: Do Top U.S. Executives Believe A 'Recovery' is Taking Place?