Friday Morning Cheat Sheet: 3 Stories Moving Markets
The markets closed up in Asia overnight, led by the Nikkei in Japan, which surged 2.86 percent. The yen is trading near a 30-month low on the back of strong economic reports from both the U.S. and China. The Hang Seng increased 1.12 percent and the S&P/ASX 200 increased 0.31 percent.
The markets were mixed in Europe heading into the opening bell in New York City. The FTSE 100 increased nearly half a percent, while the Stoxx 50 and DAX were off about 0.15 percent. Brent crude was down about 0.40 percent to $110.68 per barrel.
Futures at 8:46 a.m.: S&P: +0.07%, Dow: +0.05%, NASDAQ: -0.23%.
Here are three stories to keep an eye on:
1) "I very, very strongly hope that all parties, all views will converge in the national interest of the U.S. economy and in the international interest of the global economy," said Christine Lagarde, managing director of the International Monetary Fund, in an interview with Reuters.
"To imagine that the U.S. economy would be in default, would not honor the payments that it owes is just unthinkable," she added. Lagarde's voice joins a chorus of leaders and economists who have emphasized how critical it is that the U.S. increase its debt ceiling until the nation figures out a way to operate without a deficit. As it stands, political gamesmanship threatens to stand in the way.
Start 2013 better than ever by saving time and making money with your Limited Time Offer for our highly-acclaimed Stock Picker Newsletter. Click here for our fresh Feature Stock Pick now!
2)  Federal Reserve officials have begun questioning the longevity of their easy-money policies. Minutes from the Fed's December meeting revealed that several members were inclined to slow or stop the massive asset-purchasing program known as QE3, but the sentiment is shackled by economic conditions. Atlanta Fed president Dennis Lockhart recently said he expects to see bond buying continue beyond the middle of 2013.
Chairman Ben Bernanke and others would like to see U-3 unemployment drop to 6.5 percent before letting up on the gas, but at the current rate of job growth that might not be until mid-2014. In the meantime, the Fed's balance sheet has grown to record size…
3) The Fed's balance sheet grew to $2.946 trillion on January 16. It has swelled with mortgage-backed securities and long-term Treasury debt since the financial crisis, tripling in size in just four years. The enormous size of the Fed's balance sheet has become a major concern for both market participants and policymakers who fear the risks associated with unwinding the position.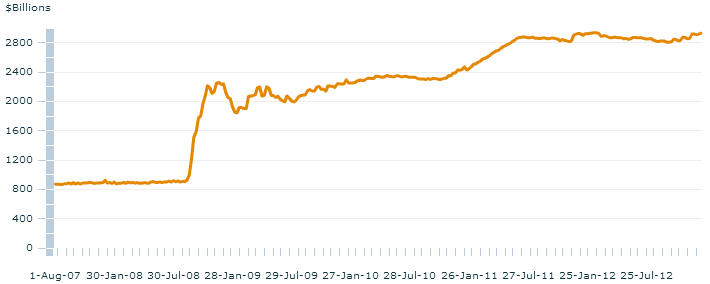 Don't Miss: Are These Gun Stocks Obama-Proof?