Friday Morning Cheat Sheet: 3 Stories Moving Markets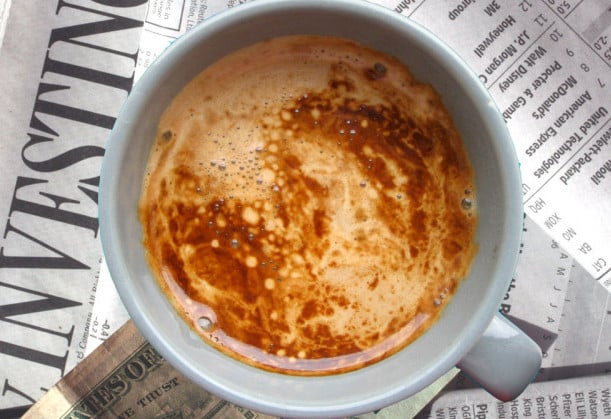 Markets were mixed in Asia on Friday. Japan's Nikkei fell 0.53 percent to 13,388.90 and the yen remained relatively flat at 98.255 against the dollar following a battery of economic indicators out of the country that were mixed, but not necessarily bad. In Hong Kong, the Hang Seng edged up 0.12 percent to 21,731.40, and in Shanghai the composite index eked out a gain of 0.06 percent to 2,098.38. In Australia, the S&P/ASX 200 climbed 0.84 percent to 5,134.96.
European equity markets declined in mid-day trading, despite the European Commission's Economic Sentiment Indicator climbing to a two-year high for August. Germany's DAX was off 0.6 percent, London's FTSE 100 was off 0.43 percent, and the STOXX 50 index was off 0.68 percent.
U.S. futures at 8:45 a.m.: DJIA: -0.01%, S&P 500: +0.06%, NASDAQ: +0.11%.
Here are three stories to keep an eye on:
1. European Economy
Economic sentiment in the European Union, as measured by the European Commission's Economic Sentiment Indicator, increased 2.7 points in the EA17 and 3.1 points in the EU27, the fourth consecutive month of gains in both regions and a two-year high for the EU. However, at 95.2 and 98.1, respectively, the indicator is still below its long-term average of 100.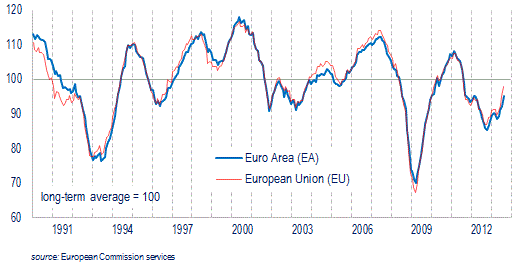 Eurostat, the statistical office of the EU, also released unemployment data for July and inflation data for August. The seasonally-adjusted unemployment rate in both the EA and the EU was flat with June at 12.1 and 11.0 percent, respectively. Annual inflation expectations in the EA edged down from 1.6 percent in July to 1.3 percent in August.
2. Japanese Economy
Japan released a battery of economic indicators on Friday morning. The one that surprised economists the most was inflation, which climbed 0.2 percent on the month and 0.7 percent on the year, although it was expected to remain effectively flat. The sudden increase in consumer prices was primarily led by gains in energy prices, which jumped 8.7 percent on the year. Transportation and communication prices also edged up.
Japan's unemployment rate declined from 3.9 percent in June to 3.8 percent in July, its lowest level since October 2008. Household spending increased just 0.1 percent on the year in July, which missed expectations for a spending increase of 0.4 percent.
Industrial production climbed 3.2 percent on the month and just 0.2 percent on the year, missing expectations for an increase of 3.7 percent on the month and 1.9 percent on the year. Finally, an a manufacturing purchasing managers index increased to 52.2 for August, indicating that the sect or is expanding at a faster rate than before, and at its fastest rate in 30 months.
3. Ted Cruz: Syria, Obamacare Symptoms of 'Lawless' Administration
Speaking to radio host Rush Limbaugh on Wednesday, Texas Senator Ted Cruz, who is pushing fellow conservative lawmakers to support his campaign to defund the Affordable Care Act, said Republicans have "gotta sit down and figure out just who we are, where we are, and where we're going."
His comments suggested that both Obamacare and the unfolding events in Syria should serve as rallying point for members of his party, and, depending on the GOP's course of action, the next few months could be a watershed moment for the party, similar to the 1995 government shutdown.
That government shutdown was prompted by a conflict between then-President Bill Clinton and Republicans in Congress over funding for Medicare, education, the environment, and public health in the 1996 federal budget. Clinton vetoed the spending bill the Republican-controlled Congress sent him, and as a result, the government suspended non-essential services for 28 days.