Friday Morning Cheat Sheet: 3 Stories Moving Markets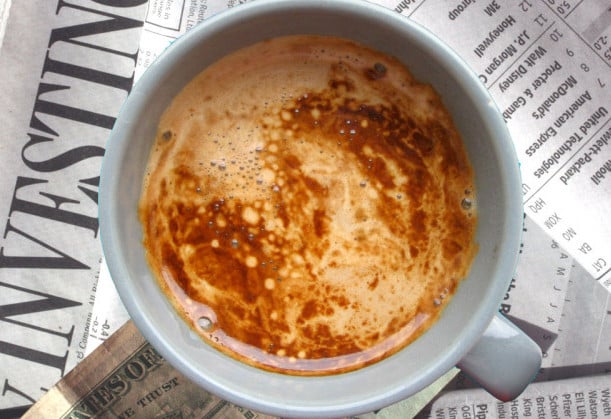 Markets were mixed in Asia on Friday. Japan's Nikkei fell 0.16 percent to 14,742.42, and the yen weakened to 99.515 against the dollar. In Hong Kong, the Hang Seng climbed 1.67 percent to 22,502.51, and in Shanghai, the Composite climbed 0.29 percent to 2,191.85. In India, the Mumbai fell 1.85 percent to 20,263.71 on the back of some policy tightening. In Australia, the ASX All Ordinaries fell 0.34 percent to 5,270.80.
European markets declined in midday trading. London's FTSE 100 was off 0.2 percent, Germany's DAX was off 0.15 percent, France's CAC 40 was off 0.2 percent, and the Euronext 100 index was off 0.15 percent. The euro weakened slightly to 0.7393 against the dollar.
U.S. stock futures were mixed: DJIA: -0.12%, S&P 500: -0.11%, NASDAQ: +0.06%.
Here are three stories to keep an eye on.
1. Indian Monetary Policy Tightens
In a move that somewhat surprised markets, the Reserve Bank of India announced that it increased the repo rate by 25 basis points, reduced the marginal standing facility by 75 basis points (from 10.25 percent to 9.5 percent), and reduced the minimum daily maintenance of the cash reserve ration from 99 percent to 95 percent. Alpana Killawala, the principal chief general manager at the RBI, commented:
"Since the First Quarter Review (FQR) in July, a weak recovery has been taking hold in advanced economies, with growth picking up in Japan and the UK and the euro area exiting recession. However, activity has slowed in several emerging economies, buffeted by heightened financial market turbulence on the prospect of tapering of quantitative easing (QE) in the US. The decision by the US Federal Reserve to hold off tapering has buoyed financial markets but tapering is inevitable.

On the domestic front, growth has weakened with continuing sluggishness in industrial activity and services. The pace of infrastructure project completion is subdued and new project starts remain muted. Consumption, while relatively firm so far, is starting to weaken even in rural areas, with durable goods consumption hit hard. Consequently, growth is trailing below potential and the output gap is widening. Some pick-up is expected on account of the brightening prospects for agriculture due to kharif output and the upturn in exports. Also, as infrastructure investments are expedited, and as projects cleared by the Cabinet Committee on Investment come on stream, growth could pick up in the second half of the year."
2. Is Mr. Market Ready for Another Debt Ceiling Debate?
It's been a rough couple of months for Mr. Market. Equities — as measured by the S&P 500 — have climbed nearly 18 percent this year to date, but the growth was twice punctuated by taper tantrums, once in June and again in August. Interest rates, as measured by the yield on the 10-year Treasury note, have increased dramatically, climbing a full percentage point between May and September before settling down some in the wake of Wednesday's monetary policy announcement.
That announcement, which came on the heels of a Federal Open Market Committee meeting, revealed that — contrary to expectations — the U.S. Federal Reserve would continue purchasing $40 billion worth of agency mortgage-backed securities and $45 billion worth of longer-term securities per month. To put it another way, the specter of the taper lives on to haunt Mr. Market until at least October 30, when the next FOMC meeting concludes — and, still, everywhere else the market turns, it faces uncertainty.
This is particularly true when it comes to the fiscal situation in the United States… (Read more.)
3. Do CEOs Believe the U.S. Economy Will Soon Pick Up Steam?
There is no doubt that the U.S. economy is still struggling to make a convincing recovery from the financial crisis. Asset prices have been pushed higher by the Federal Reserve while the labor market is failing to keep pace with population growth. Adding insult to injury, the latest report on sentiment from chief executive officers predicts a decline for certain areas of the economy over the next six months.
The Business Roundtable, which is an association of chief executive officers of leading U.S. companies, recently published its third-quarter CEO Economic Outlook Survey. The survey was completed between August 16 and September 6, and provides a forward-looking view on the economy… (Read more.)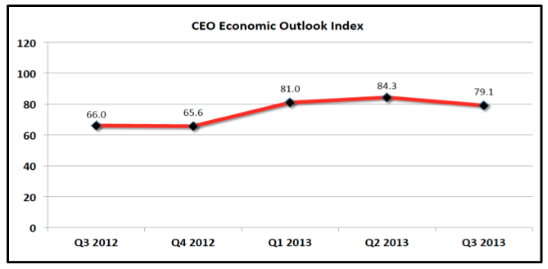 Don't Miss: Is Mr. Market Ready for Another Debt Ceiling Debate?