Friday Morning Cheat Sheet: 3 Stories Moving Markets
It's Friday, November 22, and U.S. stock futures advanced ahead of the opening bell. At 8:45 a.m., Dow futures were up 0.13 percent, S&P 500 futures were up 0.11 percent, and Nasdaq futures were up 0.25 percent.
Here are three stories to keep an eye on.
1. Italian economy
Italian retail sales contracted by 0.3 percent in September, according to the nation's statistics institute. The decline was led by a 0.2 percent contraction in the sale of food goods and a 0.3 percent contraction in the sale of non-food goods. Retail sales have contracted an average of 0.4 percent over the past three months, and the unadjusted index is down 2.8 percent on the year.
The data are just the latest in a series of reports that show the Italian economy is still struggling. Preliminary estimates of third-quarter gross domestic product showed a 0.1 percent contraction on the month and a 1.9 percent contraction on the year. A majority of Italians (58 percent) are reportedly unhappy with their financial situation, up from 55.7 percent a year ago and 49.5 percent two years ago. A comparable number of Italians believe their economic situation had worsened over the past few months. Unemployment rose to 12.5 percent in September.
2. Financial regulation
Federal Reserve Bank of Kansas President Esther George is the only Fed policymaker who voted against leaving the central bank's program of quantitative easing unchanged in October. At that meeting, she expressed concern that the ongoing stimulus could destabilize financial markets, create imbalances, and put long-term growth in jeopardy.
George focused on financial regulation and stability in a speech she delivered on Friday in Paris. On the agenda were the Dodd-Frank Act and the trend of central bankers around the world implementing macro-prudential regulatory policies designed to edit financial market incentives and to increase the overall transparency of the sector.
"Considerable attention has been focused on fixing the problems that caused tremendous damage to the global financial system and economy," she said. "More than five years later, we are still feeling the effects of the financial crisis, and, at least in the United States, questions remain as to whether we are taking the right steps. Certainly, the stakes are high and, therefore, many policymakers around the world have committed themselves to improving the durability and resiliency of the financial system."
3. German economic conditions
Germany's economy grew a seasonally adjusted 0.3 percent in the third quarter, according to the Federal Statistics Office. This follows a 0.7 percent sequential increase in the second quarter and no growth in the first quarter. The FSO cited particularly strong domestic demand and a sharp increase in capital formation.
Capital formation in construction rose 2.4 percent while formation in heavy machinery and equipment increased 0.5 percent. Government consumption increased 0.5 percent, though household consumption rose just 0.1 percent. Imports accelerated faster than exports, growing 0.8 percent compared to 0.1 percent. On the year, German GDP is up 1.1 percent.
Also released Friday morning was the November reading of the IFO Business Climate Survey. Each index, based on the survey responses of approximately 7,000 firms in Germany, is set to a 2005 level of 100. The index for current economic sentiment rose from 107.4 to 109.3, the index for current economic conditions rose from 111.3 to 112.2, and the index for business expectations rose from 103.6 to 106.3.
"The business climate improved at both levels of trade," said IFO Institute President Hans-Werner Sinn. "Retailers were far more optimistic about their future business developments, while assessments of the current business situation remained largely unchanged. In wholesaling firms were more satisfied with their current business situation. They also expressed far greater confidence in future business developments."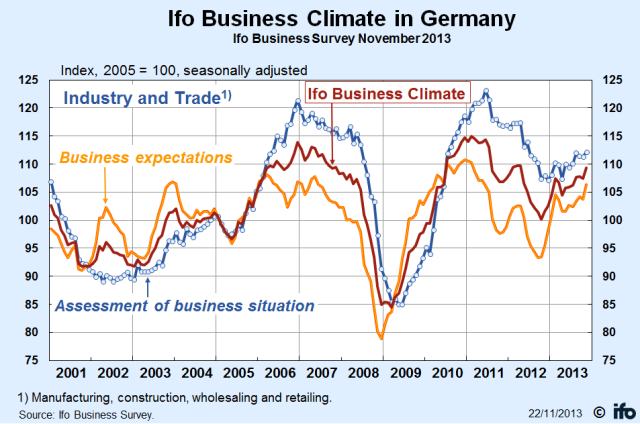 Investing Insights: Will JPMorgan Chase Move Higher?