Friday's Fix for Social Media Stocks
Facebook (NASDAQ:FB):  "Overall U.S. teen usage of Facebook remains stable. The vast majority of U.S. teens are on Facebook. And the majority of U.S. teens use Facebook almost every day," said Facebook COO Sheryl Sandberg in an interview with AllThingsD. Her statements rub up against remarks by Facebook's CFO, who on the last earnings call said that the website "did see a decrease in daily users, specifically among younger teens."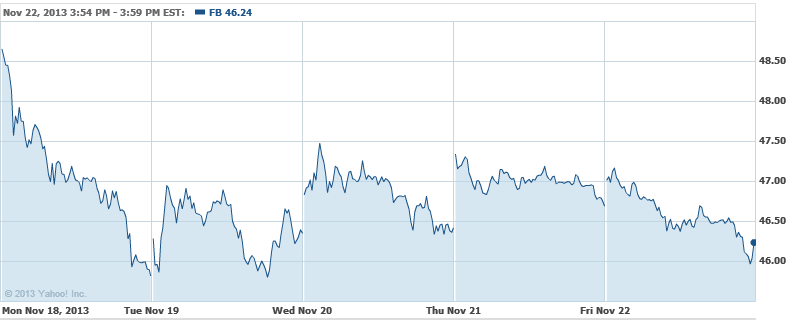 Pandora Media (NYSE:P): Although Pandora reported adjusted EPS of 6 cents, meeting consensus, and revenue of  $181.6 million beat by $6.8 million, shares are dropping as the company guides for fourth quarter revenue of $185 million-$190 million and EPS of $0.02, versus a consensus of $187.3 million in revenue and EPS of $0.04. Ad revenue growth slowed to 36 percent in the third quarter from 44 percent in the second quarter, as ad revenue per thousand listening hours rose to $40.11 from $38.87 in the second quarter, and $32.40 a year ago.

Twitter (NYSE:TWTR): Twitter has honed its advertising tool for TV, and now allows the advertising party to target "promoted tweets" at anyone talking about a specific television program. "Now advertisers can easily reach Twitter users exposed to integrations, sponsorships and other innovative TV tie-ins for an additional touch point or message expansion," Twitter revenue product manager Oliver Young said.

Don't Miss: Google Adds HBO Go to Its Chromecast Playlist.