Friday's Mid-Day Movers: 3 Stories Driving Markets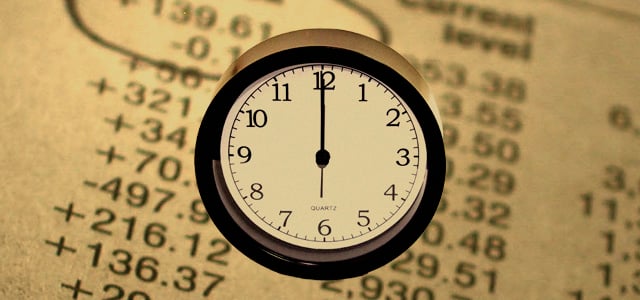 The major stocks were wavering Friday as positive economic reports released this week sparked questions about the Federal Reserve's future stimulus plans. As of 12 p.m.:
| | | |
| --- | --- | --- |
| DIJA: -0.24% to 14988.97 | S&P 500: -0.12% to 1611.28 | NASDAQ: +0.08% to 3404.42 |
| Gold: +1.38% to 62.90 | Oil: +0.23% to 22.541 | U.S. 10-Year: +0.24% to 24.89 |
Here are three stories helping shape the market Friday afternoon.
1. Consumer Sentiment Takes a Surprising Turn: Despite sluggish economic growth and lingering high rates of unemployment, consumer sentiment in the United States remains near six-year highs.
According to the Thomson Reuters/University of Michigan's final reading, consumer sentiment in June came in at 84.1, a slight decrease from 84.5 in May. Last month's reading was the best level for the index since July 2007… (Read more.)
2. S&P 500: Here's How the Rally Continued: Thursday marked the third day of gains (accompanied by more Fed jawboning) following Monday's selloff. The pattern of late in the S&P 500 is a rally at the open followed by a relatively narrow trading range throughout the rest of the day. Thursday's intraday high was a 1.05-percent gain at the end of the first hour of trading. The rest of the day was best suited to high-frequency trades as the index oscillated to its trimmed closing gain of 0.62 percent.
Meanwhile, the economic headlines were reasonably positive… (Read more.)
3. Here's What Kept the Bulls Going Strong: Thursday's economic news fed bullish sentiment, bringing a third consecutive day of stock market gains.
Investors remained bullish on Thursday after the day's economic news reinforced confidence in the economic recovery. The surprising 6.7-percent jump in the Pending Home Sales Index for May beat economists' expectations of a mere one percent increase, confirming belief that the housing market is making a strong recovery… (Read more.)
Don't Miss: Enjoy the Housing Boom While it Lasts.