Friday's Midday Movers: 3 Stories Driving Markets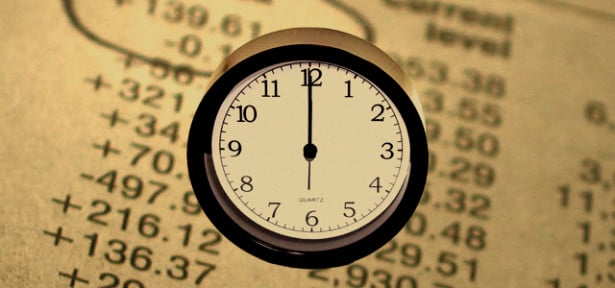 The major U.S. stocks were falling again heading into the weekend. As of noon:
DIJA:

-0.47%

to 15,256.50
S&P 500:  

-0.42%

to 1,691.60
NASDAQ:

-0.11%

to 3,783.44
Gold:

+0.31

to 72.33
Oil:

+0.41%

to 24.5099
U.S. 10-Year:

-1.06%

to 26.15
Here are three stories helping shape the market Friday afternoon.
1. Consumer Sentiment Sinks to a Five-Month Low: Due to a sluggish economy and recent actions in Washington, D.C., consumer sentiment dropped to a five-month low in September. According to Thomson Reuters/University of Michigan's final reading, consumer sentiment plunged to 77.5 this month compared to August's final reading of 82.1. It was the worst reading since April and the third-lowest since the beginning of the year.
During the last recession, the index averaged slightly above 64. In the five years before the financial crisis, it averaged almost 90. Consumer sentiment is one of the most popular measures of how Americans rate financial conditions and attitudes about the economy. The University of Michigan's Consumer Survey Center questions 500 households each month for the index… (Read more.)
2. Is the Recovery Finally Reaching Main Street? Data released by the U.S. Bureau of Economic Analysis on Friday morning show that consumers weathered economic headwinds fairly well in August. The BEA's Personal Income and Outlays report showed that, fueled by increased income and spending, the consumer sector could actually be a positive contributor to third-quarter gross domestic product, adding some much-needed momentum to the beleaguered recovery.
Personal income — the total compensation that someone receives — increased 0.4 percent on the month, consistent with economist expectations. Increases in personal income are pretty much prerequisite to increases in consumer spending, which drives as much as two-thirds of total economic activity in the U.S. Disposable personal income — which measures how much money people have left after paying income taxes — increased 0.5 percent. Real disposable personal income, which factors in inflation, increased 0.3 percent… (Read more.)
3. BlackBerry Earnings Confirm That the Bears Are in Town: On September 20, BlackBerry (NASDAQ:BBRY) temporarily halted trading in order to smooth the landing of some bad news: Fiscal second-quarter financial results would be coming in well under analyst expectations. The firm reported that revenue would come in at $1.6 billion, significantly below the average analyst estimate of $3.06 billion… (Read more.)
Don't Miss: What Will It Cost JPMorgan to Make Nice With Regulators?