Friday's Midday Movers: 3 Stories Driving Markets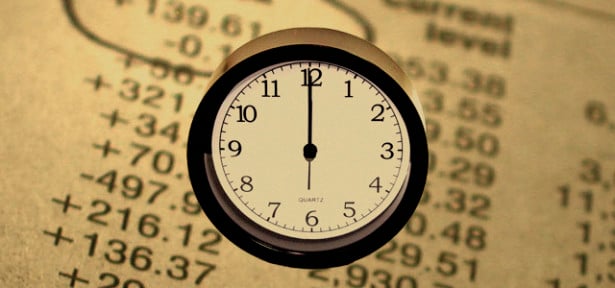 The major U.S. markets were wavering again on Friday as investors weighed manufacturing reports. As of noon:
DIJA:

+0.09%

to 15,559.34
S&P 500:

-0.11%

to 1,754.69
NASDAQ:

-0.3%

to 3,907.82
Gold:

-3.67%

to 71.19
Oil:

-1.41%

to 22.39
U.S. 10-Year:

+2.71%

to 26.11
Here are three stories helping shape the market Friday afternoon.
1. Manufacturing Expands Through October Despite Government Shutdown: Manufacturing conditions in the U.S. continued to improve in October despite the 16-day partial government shutdown. How much they improved, though, depends on whom you ask.
According to the Institute for Supply Management, which released the October reading of its Manufacturing Report on Business on Friday morning, business activity within the manufacturing sector actually accelerated for the month. Its headline purchasing managers' index increased from 56.2 to 56.4, its fifth consecutive month of growth. New orders increased fractionally to 60.6, although the index for production fell from 62.6 to 60.8. The index for employment showed decelerated growth at 53.2, but growth nonetheless… (Read more.)
2. Is GM Planning Buybacks to Speed a Government Exit? Following an excellent third-quarter earnings report, General Motors (NYSE:GM) is again facing questions about the 100 million shares still owned by the U.S. government. Analysts questioned GM Chief Executive Dan Akerson during the earnings conference call and received an answer that hints the automaker could have another buyback up its sleeve, a move that would help accelerate the U.S. Treasury's exit as a GM shareholder and clear the path for dividend payments to investors… (Read more.)
3. Can Oil Companies Spend Their Way Out of Industry Headwinds? Shares of Chevron Corp. (NYSE:CVX) fell as much as 2 percent in early trading on Friday after the integrated oil and gas company reported third-quarter financial results. The company reported sales and operating revenues of $57 billion, up from $56 billion a year ago and slightly below the mean analyst estimate of $58.14 billion. Earnings fell about 4.7 percent on the year to $5 billion, or $2.56 per diluted share, also missing the mean analyst estimate of $2.71 per share.
"Our third quarter earnings were down from a year ago," Chevron CEO John Watson said in the report. The reduction primarily reflected lower margins for refined products in the quarter, he added. Indeed, year over year, downstream earnings — those made from refining, processing, and purifying crude oil and raw natural gas — fell from $689 million to $380 million, a nearly 45 percent contraction… (Read more.)
Don't Miss: RBS Restructuring: The Good, the Bad, the Costly.