Friday's Midday Movers: 3 Stories Driving Markets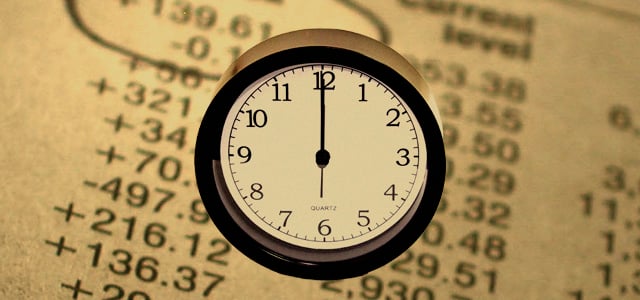 Major U.S. stocks were falling Friday going into the weekend. As of 12 p.m.:
DIJA:

-0.13%

to 15607.12
S&P 500:

-0.12%

to 1704.89
NASDAQ:

-0.01%

to 3675.30
Gold:

-0.73%

to 72.12
Oil:

-0.67%

to 25.2
U.S. 10-Year:

-3.64%

to 26.24
Here are three stories that are helping shape the market Friday afternoon:
1. Rising Factory Orders Confirm Modest Manufacturing Recovery: The U.S. Census Bureau reported on Friday morning that total new orders for manufactured goods increased 1.5 percent on the month in June to $496.7 billion. This follows an upwardly-revised increase of 3.0 percent in May (from 2.1 percent), but fell short of analyst expectations, for an increase of 2.3 percent in June. Total new factory orders have increased four out of the past five months.
The factory orders data punctuates an interesting week for manufacturing. JPMorgan Senior Economist Joe Lupton commented in July's Global Manufacturing PMI report, "Global manufacturing output continues to expand at a modest pace, consistent with a global economy that is held back from considerable fiscal drags in the first half of the year"… (Read more.)
2. What's Eating Big Oil in the Second Quarter? Shares of Chevron (NYSE:CVX) shed as much as 2 percent in morning trading on Friday, after the integrated oil and gas giant reported somewhat underwhelming second quarter earnings. Sales and operating revenue fell 8.3 percent on the year to $55 billion, missing the average analyst estimate of $56 billion. Earnings declined 27.3 percent on the year to $2.77 per share, missing the average analyst estimate of $2.96 per share… (Read more.)
3. Here's What Republicans Think About Defunding ObamaCare: "Delaying the employer mandate and exchange verification rules is the latest and most damning admission by the administration that ObamaCare was poorly crafted, remains unworkable, and, if implemented, will hurt American families, businesses, and our economy," Republican Senator Mike Lee of Utah said in a press release issued early in July.
"The only solution is to fully repeal ObamaCare and start over with a more sensible, practical approach to fix our health care system," he continued. But, "short of full repeal…those of us who care about the health care and security of the American people still have a duty to act. If the president has decided he won't enforce his law as it is written, then Congress should not fund any further implementation of it at all"…(Read more.)
Don't Miss: Rising Factory Orders Confirm Modest Manufacturing Recovery.