Friday's Midday Movers: 3 Stories Driving Markets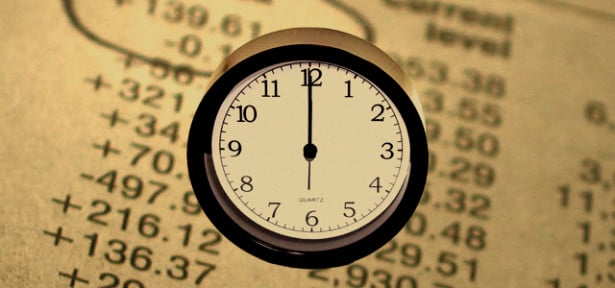 The major U.S. markets were inching lower Friday heading into the holiday weekend. As of noon:
DIJA:

-0.32%

to 14,793.89
S&P 500:

-0.33%

to 1,632.71
NASDAQ:

-0.73%

to 3,593.82
Gold:

-0.78%

to 78.71
Oil:

-0.74%

to 25.39
U.S. 10-Year:

+0.07%

to 27.53
Here are three stories helping shape the market Friday afternoon.
1.  Consumers Find It Hard to Keep Smiling: Consumers appear to be feeling better at the end of August than they did at the beginning, but they are still struggling to remain upbeat about the sluggish economy. According to Thomson Reuters/University of Michigan's final reading, consumer sentiment improved to 82.1 in August compared to a preliminary reading of 80 earlier in the month. However, it was still lower than July's final reading of 85.1 — the best level for consumer sentiment in six years.
During the last recession, the index averaged slightly above 64. In the five years before the financial crisis, it averaged almost 90. Consumer sentiment is one of the most popular measures of how Americans rate financial conditions and attitudes about the economy. The University of Michigan's Consumer Survey Center questions 500 households each month for the index… (Read more.)
2. Will Consumer Spending Drag Down Economic Growth? Personal income increased at a seasonally adjusted annual rate of 0.1 percent in August, according to the U.S. Bureau of Economic Analysis. Real disposable income increased at a SAAR of 0.2 percent, and personal consumption expenditures — a measure of consumer spending — increased at a SAAR of 0.1 percent.
The data came in slightly below expectations. On average, economists were expecting personal income to increase 0.2 percent on the month, spending to increase 0.3 percent, and the PCE index to increase 0.2 percent. The soft data suggest that consumer spending — which accounts for as much as 70 percent of total gross domestic product in the United States — could drag on current-quarter economic growth… (Read more.)
3. Planning for Retirement? Social Security Will Cramp Your Style: There's a lot to be said about the aggregate retirement situation in America right now. According to a report published last year by Iowa Sen. Tom Harkin, Americans are running a collective retirement income deficit — the difference between what people have save and what they should have saved — of $6.6 trillion.
Half of Americans have less than $10,000 in savings, according to the report, and a full 92 percent believe that there is a growing retirement crisis. (Savings estimates tend to vary wildly.) By and large, the data support the pessimistic theory that there is a retirement crisis brewing… (Read more.)