Frontier Communications Earnings: Revenue Pops Twofold
S&P 500 (NYSE:SPY) component Frontier Communications Corporation (NYSE:FTR) reported higher profit for the first quarter as revenue showed growth. Frontier Communications Corporation provides telecommunications services to rural areas and small and medium-sized towns and cities.
Don't Miss: Wall St. Cheat Sheet's newest Feature Trades of the Month!
Frontier Communications Earnings Cheat Sheet for the First Quarter
Results: Net income for Frontier Communications Corporation rose to $54.7 million (5 cents/share) vs. $42.6 million (14 cents/share) in the same quarter a year earlier. A rise of 28.5% from the year earlier quarter.
Revenue: Rose more than twofold to $1.35 billion YoY.
Actual vs. Wall St. Expectations: FTR fell short of the mean analyst estimate of 6 cents/share. Estimates ranged from 4 cents per share to 8 cents per share.
Quoting Management: "Frontier's strong operating metrics and stabilized revenues this quarter were driven by continued broadband expansion and local customer engagement," said Maggie Wilderotter, Chairman & CEO of Frontier Communications. "To date, Frontier's team has built broadband to 323,000 new homes while achieving $368 million of annualized cost savings. We are confident in our ability to reach our $550 million cost savings target and eliminate additional expenses from the business. With approximately 575,000 homes remaining in our build out plan through midyear 2013, we also expect further improvements in residential and commercial customer revenues, while maintaining healthy cash flow to support our dividend."
Key Stats:
Net income has increased more than twofold year over year on average across the last five quarters. The biggest gain came in the fourth of the last fiscal year, when income climbed 944.6% from the year earlier quarter.
Competitors to Watch: AT&T Inc. (NYSE:T), Iowa Telecommunications Services, Inc. (IWA), Windstream Corporation (NASDAQ:WIN), Verizon Communications Inc. (NYSE:VZ), Telephone & Data Systems, Inc. (NYSE:TDS), Warwick Valley Telephone Co. (NASDAQ:WWVY), Otelco, Inc. (NASDAQ:OTT), Cbeyond, Inc. (NASDAQ:CBEY), Cincinnati Bell Inc. (NYSE:CBB), and CenturyLink, Inc. (NYSE:CTL)
Stock Performance: Shares of FTR are trading 2.4% from the previous close.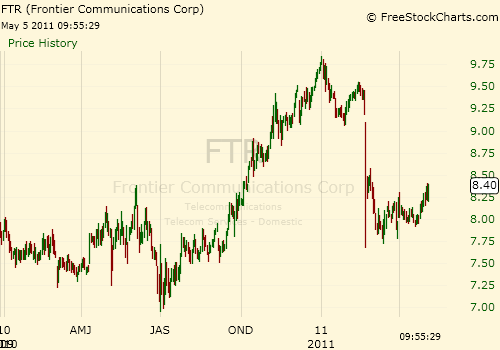 Don't Miss Wall St. Cheat Sheet's newest Feature Trades of the Month!