Frontier Oil Corporation Earnings: Five Quarters of Double-Digit Revenue Growth
Frontier Oil Corporation (NASDAQ:FTO) reported its results for the first quarter. Frontier Oil Corporation is an independent energy company, engaged in crude oil refining and the wholesale marketing of refined petroleum products.
Don't Miss: Wall St. Cheat Sheet's newest Feature Trades of the Month!
Frontier Oil Earnings Cheat Sheet for the First Quarter
Results: Swung to a profit of $139.9 million ($1.32/diluted share) in the quarter. The Frontier Oil Corporation had a net loss of $40.3 million or a loss 39 cents per share in the year earlier quarter.
Revenue: Rose 50% to $1.91 billion YoY.
Actual vs. Wall St. Expectations: FTO beat the mean analyst estimate of 99 cents/share. Estimates ranged from 83 cents per share to $1.10 per share.
Quoting Management: Frontier's Chairman, President and CEO, Mike Jennings, commented, "We are extremely pleased with our record quarterly results and with the strength of refining margins continuing into the second quarter. The product crack spreads are the best we have seen since our record results in 2007. In addition, Frontier's results continue to benefit from midcontinent crude supply that exceeds takeaway capacity and from the ability to process a variable crude slate including large quantities of heavy and sour crudes. The average barrel of crude processed at our refineries in the first quarter priced more than $7 less than a WTI barrel and more than $20 less than a coastal light/sweet crude barrel such as Light Louisiana Sweet (LLS). While these crude differentials were historically unprecedented, we expect to continue to benefit from our close proximity to expanding crude production from the continued development of shale plays in the Rocky Mountains and midcontinent as well as growth from the Canadian oil sands."
Key Stats:
The company has enjoyed double-digit year-over-year revenue growth for the past five quarters. Over that span, the company has averaged growth of 42.9%, with the biggest boost coming in the first quarter of the last fiscal year when revenue rose 54.7% from the year earlier quarter.
Competitors to Watch: Holly Corporation (NYSE:HOC), Valero Energy Corporation (NYSE:VLO), Tesoro Corporation (NYSE:TSO), Sunoco, Inc. (NYSE:SUN), Alon USA Energy, Inc. (NYSE:ALJ), Delek US Holdings, Inc. (NYSE:DK), Western Refining, Inc. (NYSE:WNR), CVR Energy, Inc. (NYSE:CVI), Calumet Specialty Products Partners, L.P (NASDAQ:CLMT), and Murphy Oil Corporation (NYSE:MUR)
Stock Performance: Shares of FTO are trading up 2.5% from the previous closing price of $25.12.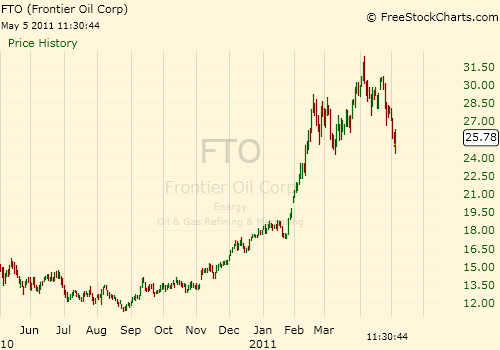 Don't Miss Wall St. Cheat Sheet's newest Feature Trades of the Month!