Full-On Recession, Part-Time Boom
Throughout all of the post-WWII recessions, the prevalence of involuntary part-time work has closely mirrored the unemployment rate (recessions are shaded in the chart below). This relationship has even held in the Great Recession. However, the latest recession was unique because the rise in involuntary part-time employment was so sharp and it has persisted for so long.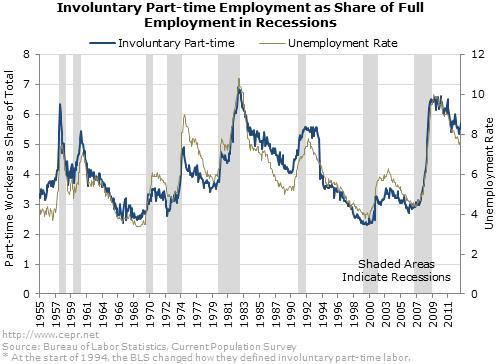 The increase of involuntary part-time workers in the most recent recession (99.78 percent) was more than double that of earlier recessions (about 40 percent on average). Also, at this point, in the five recessions before the Great Recession, the part-time rate had already returned to close to "normal." In those recessions the number of part-time workers for economic reasons had dropped back to between 15 and 35 percent above the pre-recession levels. In this recovery, five and a half years after the recession began, the share of workers involuntarily working part-time remains more than 80 percent over the pre-recession rate.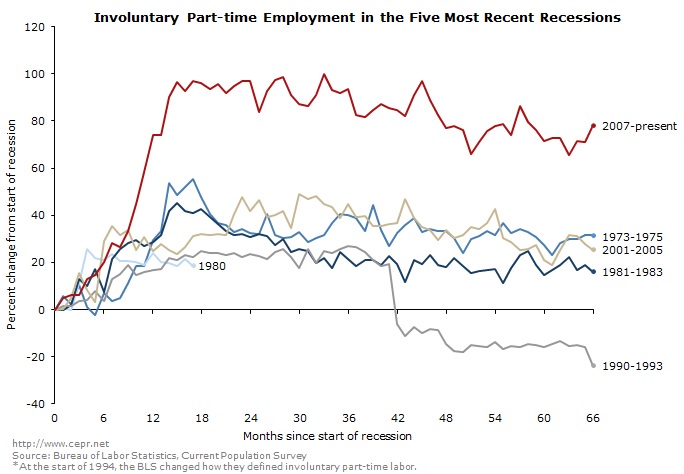 With such high and sustained levels of involuntary part-time employment, policies in discussion — from the implementing of the Affordable Care Act to the Women's Economic Agenda — need to take protections for part-time workers into account.
Originally written for the blog of The Center for Economic and Policy Research, which was established in 1999 to promote democratic debate on the most important economic and social issues that affect people's lives. CEPR is committed to presenting issues in an accurate and understandable manner, so that the public is better prepared to choose among various policy options. Follow CEPR on Twitter @ceprdc.
Don't Miss: BofA's Financial Crisis Hangover Lives to See Another Day.