Fundamental and Technical Indicators Glitter for Gold
September is historically the strongest month of the year for the price of gold. Precious metals typically receive a boost from various global holidays in the late part of the year. However, gold and silver are currently receiving additional strength this year as fundamental and technical catalysts align at the same time.
Since 1980, the price of gold has increased an average of 1.7 percent during September, according to Bespoke Investment Group. Over the past five years, it has performed even better, climbing an average of 2.8 percent. Holidays such as Ramadan, India's post-monsoon wedding season, Diwali, Christmas and Chinese New Year all offer support to precious metals as we near the end of 2012. Additionally, central banks are flooding the world with liquidity and making hard assets look even more appealing to own.
Don't Miss: QE3 Removes Price Ceiling for Gold and Silver
Mario Draghi, European Central Bank President, set the stage for central banks and precious metals in late July when he said, "The ECB is ready to do whatever it takes to preserve the euro, and believe me, it will be enough." On September 6, he announced that policy makers agreed to an unlimited bond purchasing program to control interest rates in debt ridden countries such as Spain and Italy. Not to be outdone, the Federal Reserve launched its own unlimited quantitative easing program, which will buy $40 billion of MBS each month, for as long as it believes is necessary. On Wednesday, the Bank of Japan also decided to expand its monetary easing program for the eighth time. It increased its asset purchases by 10 trillion yen ($127 billion) to a total of 80 trillion yen, and removed the floor on yields that determine which bonds are eligible for purchase.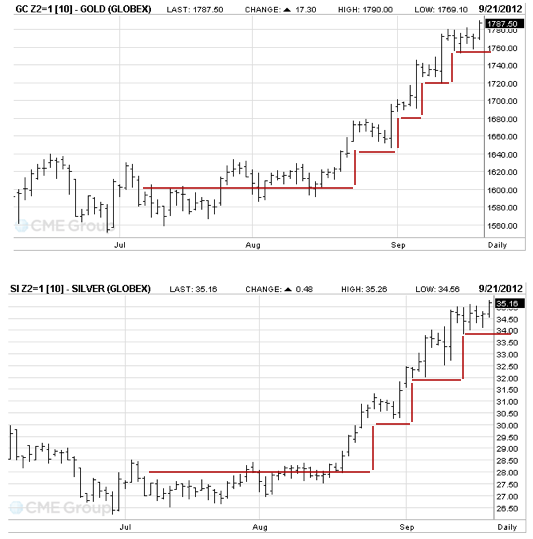 As the charts above show, the recent developments have sent gold and silver surging higher. After building support at $1,600 an ounce, gold started to make a significant move in late August. It is now in a staircase pattern, which is known as a "Swiss Stair Accumulation." This technical formation is very bullish for gold. So far, it has taken gold from $1,600 to near $1,780. Interestingly, gold made this same technical pattern last year. The precious metal made a clear staircase patten from $1,480 to $1,605, which turned into a parabolic rise to an all-time nominal high of $1,900. Currently, silver also has a similar pattern, with its price rising from $28 an ounce to $35 over the past two months.
Investor Insight: The Fed's Balance Sheet Puts Gold and Silver on the Warpath
In another bullish sign for gold, it recently completed what is called a "Golden Cross." The 50-day moving average crossed above the longer-term 200-day moving average. Long-term indicators such as the 50-day and 200-day moving averages usually carry more weight with technicians and could easily signal a new bull market in precious metals. As gold moves higher, it often brings silver along for the ride. In fact, silver often outperforms gold to the upside.
In early August, we warned our Premium Subscribers that the summer-long consolidation process for precious metals was coming to an end and a strong base in gold and silver could make for a very impressive second half of the year. Both precious metals have succeeded by making strong moves and improving their technicals. Although gold and silver will still have pullbacks, the future looks bright as the fundamentals grow stronger and central banks around the world speed up the race to debase fiat currencies.
If you would like to receive professional analysis on miners and other precious metal investments, we invite you to try our premium service free for 14 days.
Disclosure: Long EXK, AG, HL, PHYS