Gallup: Consumer Spending Means Happy Holidays for Retailers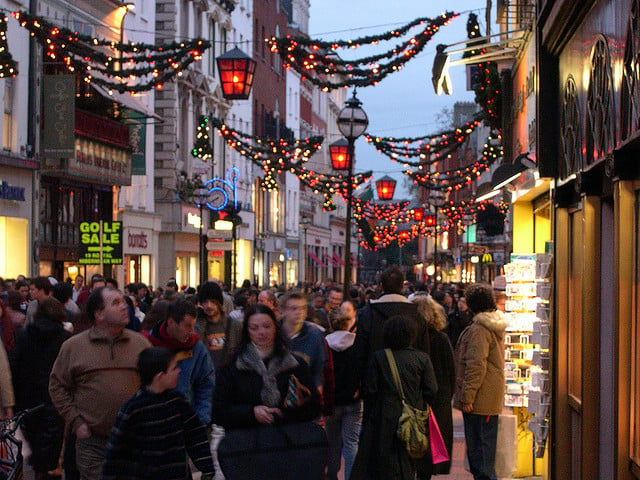 Trends in consumer spending are usually skewed in November because, in the days after Thanksgiving, the holiday shopping season begins. Nonetheless, the data for the month tells a story of its own about consumer confidence and their willingness to spend. With the economic recovery progressing at a still anemic pace and the late date of Black Friday causing retailers to begin offering promotions earlier in the month, the annual kickoff of the holiday shopping season was weaker-than-expected.
Over the course of the weekend, consumers spent approximately $1.7 billion less on holiday shopping than they did last year, according to the National Retail Federation, even though 141 million people — 1 million more than in 2012 — shopped between Thursday and Sunday. Key to the lower spending number was the fact that the average amount spent per person decreased to $407.02 from last year's $423.55. "There are some economic challenges that many Americans still face," Matthew Shay, the retail federation's chief executive officer, told the New York Times. "So in general terms, many are intending to be a little bit more conservative with their budgets."
With that reality staring them in the face, executives at Wal-Mart and Target have lowered their yearly forecasts recently, citing slow wage growth, stubbornly high unemployment, and depressed consumer confidence as causes for their concern. "The retail environment, both in stores and online, remains competitive," Wal-Mart Chief Executive Mike Duke in an audio recording released with the earnings report. "At the same time, some customers feel uncertainty about the economy, government, jobs stability and their need to take care of their families through the holidays."
Still, it is expected that holiday retail sales will grow 3.9 percent year over year. That expectation for increased sales growth has some support in Gallup's self-reported consumer spending estimates from November. In response to the survey, Americans reported spending an average of $91 per day throughout November, excluding household bills and major purchases like a car or home. That estimate represented a slight increase from October and surpassed figures from prior Novembers, indicating that consumer spending is trending upward. So far this year, spending estimates have outpaced those recorded between 2009 and 2012.
In 2008 — the first year in which Gallup conducted this survey — each monthly reading exceeded $80 and during four months spending jumped above $100. Then, between 2009 and November 2012, the month averages were consistently below $80. That period became known as the "new normal" in spending, and it was linked to the sluggish economy and high unemployment rate.
From late 2012 through August, Gallup's consumer spending data had been generally been trending upward, a sign that consumers were moving beyond the "new normal" period of more limited spending. However, in September, momentum was lost, largely due to the looming possibility of a government shutdown. "To the extent Americans' decreased spending is tied to concerns about the larger economy, driven to a large degree by the run-up to, and commencement of, a federal government shutdown, it suggests the effects of the government's budget stalemate go well beyond the temporary halting of non-essential government services," explained Gallup's September reading of discretionary spending.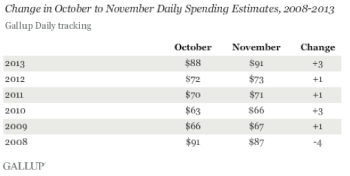 Then, in October, the reading rebounded, with Americans spending an average of $88 per day, a modest increase from September's $84 but still below August's $95. October's modest increase far too small to indicate any improvement in economic conditions, but it did suggest that consumer confidence strengthened once the debt ceiling crisis and budget stalemate were temporarily dealt with part way through the month.
Of course, November is usually among the highest spending months of the year because of the holidays, and the fact that there was only a modest change between the October and November estimates suggests that consumers will still be "a little bit" conservative about their spending this holiday season, as Shay explained. But still, the three dollar increase between October and November bodes well for December. Excluding 2008, the average October to November change has been a two-dollar increase, while the November to December change is typically larger, averaging slightly more than $7 annually since 2009. Last year, consumer spending jumped by $10.
Since spending has remained stronger in 2013 than it had been during the slump from 2009 to late 2012, the coming month could be the strongest for spending that Gallup has measured since 2008. But, it is "unclear how that may translate to holiday spending specifically," wrote Gallup's Jeffrey M. Jones in the December 2 report.
"Certainly some portion of December spending will be going toward gift buying, but much of it will not," he added Previous surveys on expected holiday spending have returned different results, with the November estimate less optimistic than the initial October figure. "Nevertheless, even the weaker November holiday shopping estimate predicts an increase in retail spending during the holiday season over last year," wrote Jones.
Sterne Agee economist Lindsey Piegza expressed a positive forecast for the holiday season as well. "Consumers appear to be willing to spend beyond what the tepid job creation and minimal income growth over the past several quarters would suggest," she wrote in a research note acquired by the Los Angeles Times. "Going forward, sustained job creation and bigger income checks are needed to maintain heightened spending patterns, but at least for the moment, short-term optimism may result in more than coal for retailers this holiday season."
The last marker of the health of consumer spending before the holiday shopping season — the Department of Commerce's October retail sales report — also gave the retail sector a reason to scale back their panic about the tough retail environment. Consumers spent more than expected, pushing sales up 0.4 percent last month, far above the 0.1 percent increase expected by economists surveyed by Bloomberg. Total sales amounted to $428.1 billion, a 3.9 percent jump from October 2012.
Follow Meghan on Twitter @MFoley_WSCS
Don't Miss: Cha-Ching: Cyber Monday Finally Living Up to the Hype.