Gallup: Government Shutdown Is Already Hurting Consumer Spending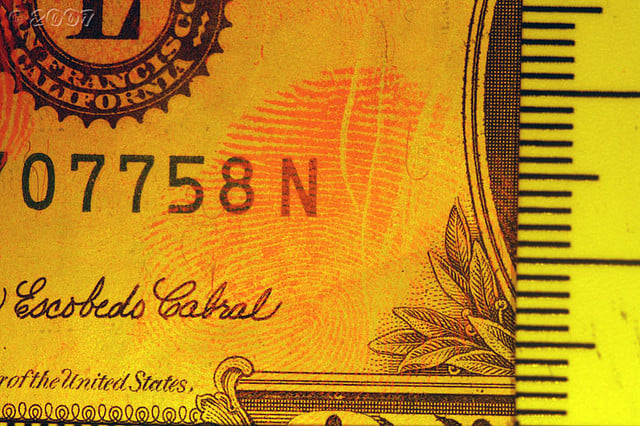 "Spending estimates from Gallup and the government seem to indicate that consumers are moving beyond the 'new normal' period of more limited spending observed from 2009 to 2012," noted Jeffrey M. Jones in the research firm's September reading of Americans' self-reported daily spending.
Gallup's data shows that consumer spending has generally been trending upward since late 2012, a positive sign for the U.S. economy since between 2009 and November 2012, the month averages were consistently below $80. That period became known as the "new normal" in spending, and it was linked to the sluggish economy and high unemployment rate. Comparatively, in 2008 — the first year in which Gallup conducted this survey — each monthly reading exceeded $80 and for four months the measure jumped above $100.
At $95, Americans' self-reported daily spending for the month of August was the highest Gallup has measured in any month since a $99 reading in September 2008. However, last month, the measure slipped to an average of $84 — the lowest monthly figure since February.
"The August increase in Gallup's spending measure is a positive sign for the economy after Gallup and government spending estimates suggested little spending growth in July. A key to keeping up the positive momentum is whether Americans pull back in September or continue to spend at higher levels," noted Jones in last month's edition of the spending figure. But consumers did pull back from August's spending levels. Still, the September average was the highest figure record for any September since 2008.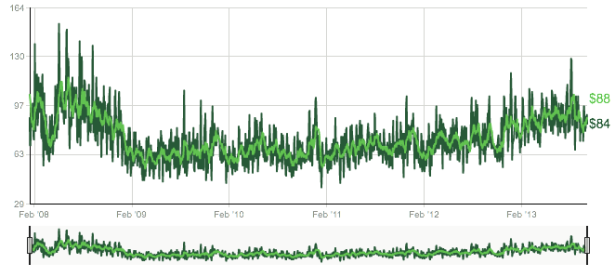 In the last few weeks of the month, the government shutdown was a looming possibility, putting Americans' confidence in the economy in question. "To the extent Americans' decreased spending is tied to concerns about the larger economy, driven to a large degree by the run-up to, and commencement of, a federal government shutdown, it suggests the effects of the government's budget stalemate go well beyond the temporary halting of non-essential government services," wrote Jones. "And progress toward a full economic recovery may be on hold until the government successfully addresses the budget situation, as well as the coming Oct. 17 deadline to raise the federal debt limit."
For the six years that Gallup has tracked spending, the September number has typically been lower than that of August, meaning last month's decline was not entirely unexpected. But the decline was significantly larger then declines reported in previous years. In fact, the $11 drop ranks among the largest decreases Gallup has measured since 2008. Declines of that magnitude are more commonly experienced between December and January, after the holiday shopping season comes to a close. Jones postulated that the larger-than-usual drop was related to the decline in Americans' confidence in the economy over the course of the month. Gallup's Economic Confidence Index dropped to minus 19 in September from minus 13 in August, the worst monthly average since September 2012.
Similarly, the Bloomberg Consumer Comfort Index fell in the week ended September 29 to minus 29.4 from minus 28.1. In particular, the gauge of Americans' current views on the economy dropped to minus 57.8 from minus 52.5, which pulled down the entire index. "Political tensions that led to the current government shutdown, and the coming policy fight over the debt ceiling, are likely behind the decline in consumer comfort," explained Bloomberg senior economist Joseph Brusuelas. A prolonged fight over the budget "carries significant risk to overall consumer and business sentiment," he added.
Of course, this produces a vicious cycle of sorts. As consumers worry more about the health of the government and keep spending to their immediate necessities, the economy takes a hit. Consumer spending, which accounts for approximately 70 percent of the United States gross domestic product, is now more important than ever. Since government and business spending have remained weak, the economy is depending even more on household spending to fuel growth. "Nothing looms larger than the health of the consumer in a second-half [economic] pickup," economists at Citigroup wrote in a research note in August.
The report also pointed toward the split economy that Telsey Advisory Group senior research director Joe Feldman described in an interview with CNBC. Stagnant wages and higher payroll taxes have affected spending for lower-income earners, as the disappointing second-quarter earnings reports from retailers like Wal-Mart (NYSE:WMT) and Target (NYSE:TGT) made clear, but rising home values have given homeowners more equity, and combined with the modest gains made by the labor market, put other Americans in a better position to increase their outlays. "You're seeing a bit of a split economy where that lower income consumer has been under a lot of pressure but the higher end is doing OK," Feldman said.
Segments of the American population that generally report higher spending levels — like upper-income earners, parents, men, and those between the ages of 30 and 49 — experienced greater spending declines in September than all other groups. The $10 decrease in average daily spending for lower- and middle-income Americans was concentrated among those whose annual household incomes range between $60,000 and $90,000.
Spending for that group declined from $122 per day in August to $87 in September. There was a smaller $6 drop, from $81 to $75, among those in the $24,000 to $60,000 range, and no change among those whose incomes are less than $24,000 per year. That spending declined more among higher income earners is due to the fact that those consumers have more dollars to spend on items or services after major purchases such as a home or car have been made and normal household bills have been paid. Gallup's measure excludes spending on major purchases and bills.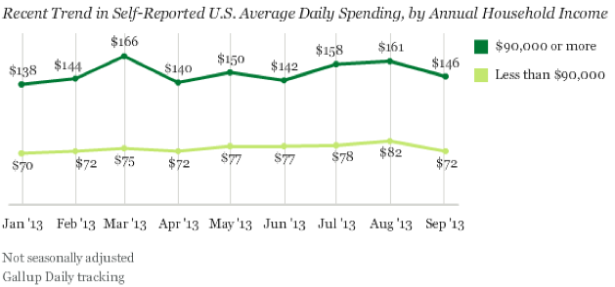 The fact that August's higher level of growth was not sustained in September indicates that a full recovery "from the recession may still be a ways off," according to Gallup's Jones.
Follow Meghan on Twitter @MFoley_WSCS
Don't Miss: Analyst: Here's Why BofA Will Report Weaker Q3 Results.