Gallup: U.S. Workers Say Job Creation is at a Five-Year High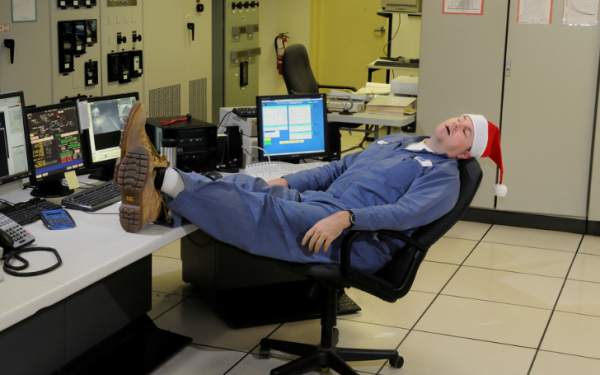 Oftentimes official data and personal experience do not match up — but in the case of the current labor climate, the two seem to be aligning.
On Wednesday morning, the markets, economists, and general public were given a broad view of the American job market from a variety of sources: Challenger's job cuts report, ADP's National Employment Report, and the Department of Labor's weekly new jobless claims measure indicated the labor market has continued to shrug off the substantial fiscal headwinds from federal budget cuts and tax increases.
Evidence of a slightly different kind, which supplements those hard firing and hiring statistics, painted an equally strong picture of labor conditions. Gallup's U.S. Job Creation Index showed U.S. workers felt slightly more positive about their workplace hiring conditions in May and June than they were earlier this year. In fact, the reading was a five-year high.
Businesses added 188,000 jobs in June, a marked increase from the 134,000 jobs added in May, while Challenger's figures pointed to a noticeable slowdown in job cuts during the first six months of 2013, even though the downsizing pace did spike slightly last month. The Bureau of Labor Statistics showed that 343,000 people filed for first-time unemployment claims last week, a decrease of 5,000 claims from the previous week.
Gallup's U.S. Job Creation Index remained at a reading of plus-22 for the second consecutive month, confirming that job creation rebounded this spring. At the beginning of the year, the index dipped to a plus-16 level as workers worried that hiring would not pick up this year. With the index generally trending upward, June's reading exceeded the relatively positive figures that were recorded midway through 2012, and it matched the level reached in June 2008, just before the U.S. economic crisis began.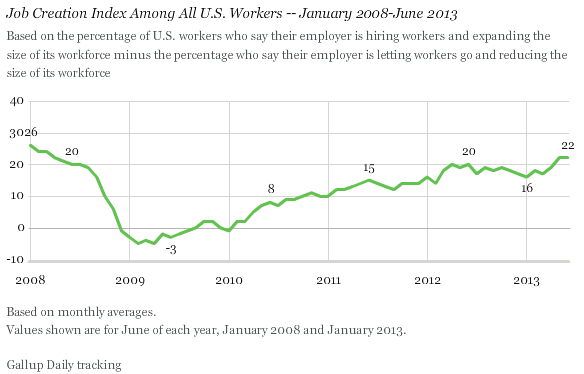 Hiring has improved in each region of the country since January, but the recent upswing, which began in April, has largely benefited workers in the South and in the West. In comparison, hiring in the Midwest has been flat and job creation has been weakest in the East all year. In June, the East recorded a reading of plus 19 while all other regions posted readings of at least plus 22.
June's results are based on a Gallup survey that found 37 percent of U.S. adult workers said their employers are hiring and expanding the size of their workforces, and 15 percent said their employers are laying off workers and reducing their staff. These figures were unchanged from May.
John Challenger, chief executive officer of Challenger, Gray & Christmas, attributed some of June's layoffs to sequestration, and, similarly, Gallup's data showed a net negative perception of hiring conditions among federal workers. That category posted a minus-5 reading, while non-government workers continued to be fairly positive with a plus-25 Job Creation Index Score.
Gallup's behavioral economics-based jobs measure is based on the core assumption that a random sample of thousands of employed Americans in all regions of the U.S. and across all industries can provide important insight regarding companies' hiring and firing decisions. When aggregated, these individual reports read as a key assessment of hiring activity nationwide. Individual assessment of job market conditions can offer insights that hard data and government indicators may not. For example, the government's weekly new jobless claims measure only reflects workers filing for benefits, yet not everyone who is laid off files for unemployment. The index may even detect hiring trends days or weeks before they are manifested in the official unemployment rate.
In this case, workers' opinions regarding their workplace hiring conditions matched Americans' broader views of national economic conditions, which have hit five-year highs in recent months.
Follow Meghan on Twitter @MFoley_WSCS
Don't Miss: Are Higher Interest Rates Damaging the Housing Recovery?