Gamestop Looks For Growth Opportunities and 3 Stocks At 52-Week Highs
DISH Network Corp. (NASDAQ:DISH): Closing price $37.90
Clearwire Corporation (NASDAQ:CLWR) will take the $80 million April draw through the terms of its arrangements with Sprint Nextel Corporation (NYSE:S) which supply additional financing to the form in the form of notes that will be exchangeable under certain conditions for Clearwire common stock at $1.50 per share. The form said that its Special Committee has not decided as to whether to take any future draws under the financing agreements with Sprint. As previously divulged on January 8th, Clearwire received an unsolicited, non-binding proposal from DISH Network, which was a preliminary indication of interest. The Special Committee has engaged in talks with DISH regarding its proposal and with Sprint over the course of the last three months, which it intends to continue. Shares closed down 0.32 percent on Thursday at $37.90, and have been traded in a 52-week range of $26.12 to $38.20.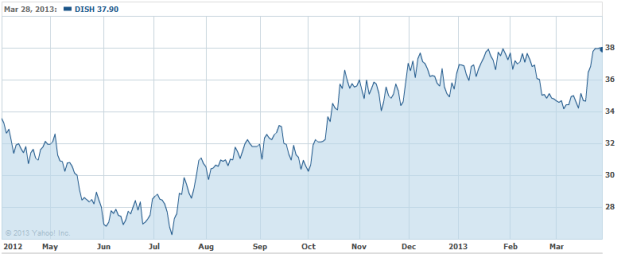 EDAC Technologies Corporation (NASDAQ:EDAC): Closing price $18.54
MidOcean Partners made an offer to purchase all of the outstanding shares of EDAC for $18.25 per share in cash. The proposed transaction marks a  50 cents per share bonus to the price offered by GB Aero Engine, an affiliate of the Greenbriar Equity Group, in a transaction reported on March 18th, and also represents a 23.2-percent premium to the average close of EDAC over the 30 trading days ending March 15th, which precede the announcement of the deal with Greenbriar. In its letter to the board of EDAC, MidOcean and its co-investor have stated that they would be enter into an agreement to buy EDAC on terms that are substantially similar to, and in total at least as favorable to EDAC as, those in EDAC's existing merger agreement with Greenbriar, including structuring the transaction as a cash tender offer. Shares closed up 4.63 percent on the day at $18.54, having been traded in a 52-week range of $9.51 to $17.78.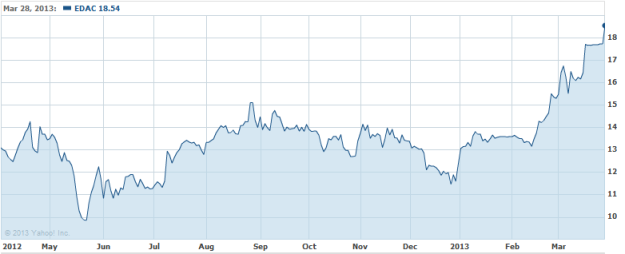 Eaton Vance Corp. (NYSE:EV): Closing price $41.83
The company's subsidiary Eaton Vance Management has filed an application with the Securities and Exchange Commission requesting exemptive relief to allow the offering of exchange-traded managed funds. ETMFs would trade on an exchange at prices linked directly to the fund's next-determined daily net asset value, using what is called "NAV-based trading." Shares closed up 1.38 percent on Thursday, and have been traded in a 52-week range of $22.97 to $41.28.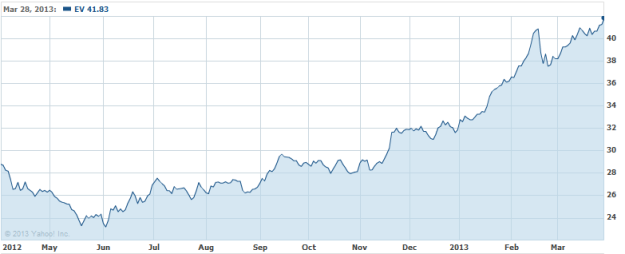 Gamestop Corp. (NYSE:GME): Closing price $27.97
From comments made on the company's fourth quarter earnings call, pre-owned game business has slumped with a decline in new titles, but pre-owned video game business has performed "far better" than has the new software category, and Gamestop anticipates that business should return to growth as consoles accelerate. The firm expects to continue to return cash flow to shareholders, as it continues to explore acquisition opportunities for growth. 2013 margins should be comparable to 2012, and fiscal-year free cash flow at between $425 million and $475 million, with capital expenditures from $135 million to $140 million. Gamestop will continue to lower soending on new stores, and will will close a net of around 150 stores in 2013. Shares closed up 5.75 percent on the day having been traded in a 52-week range of $15.32 to $28.35.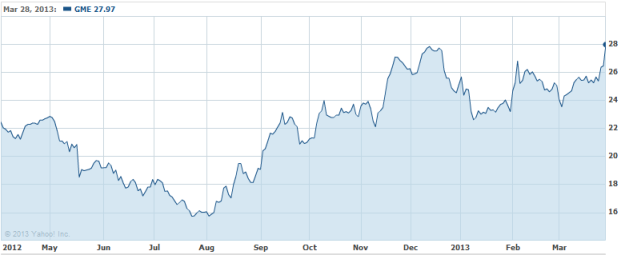 Investing Insights: Will Hewlett-Packard Seek Higher Prices?