GameStop Says Millions of Customers Waiting for PlayStation 4 and 2 More Heavily Traded Stocks to Follow
GameStop Corp. (NYSE:GME): Current price $48.85
During a conference call with analysts Thursday, the specialty retailer of video games said that its initial allocation of PlayStation 4 consoles have sold out, and that 2.3 million customers are awaiting new players from Sony Corp. (NYSE:SNE) and Microsoft Corp. (NASDAQ:MSFT). Initial sales of the player surpassed those of its predecessor, the PlayStation 3, by over 80 percent in the first days, according to GameStop executives, who also anticipate a hefty waiting list for Microsoft's Xbox One, all of which implies that the prolonged industry sales slump could be ending.
The retailer for over half of Sony and Microsoft's video game software sales, should benefit from the console transition based on its capacity to entice gamers who trade in older titles and hardware for discounts on new equipment, according to analyst Colin Sebastian, at Robert W. Baird & Co. in San Francisco. He also recommends buying the stock.

Ford Motor Co. (NYSE:F): Current price $17.09
Ford said Thursday that it will shell out $150 million to upgrade and expand its Buffalo, New York, stamping plant, which manufactures doors, hoods, and other parts for a number of models including the Edge crossover and Focus compact car. The number-two domestic automaker will also add 350 jobs, swelling the size of the factory's workforce by 54 percent, and add a third shift in the facility's press room. Ford is also adding over 500 new dies, or devices employed to cut and shape material, and a new blanketing line.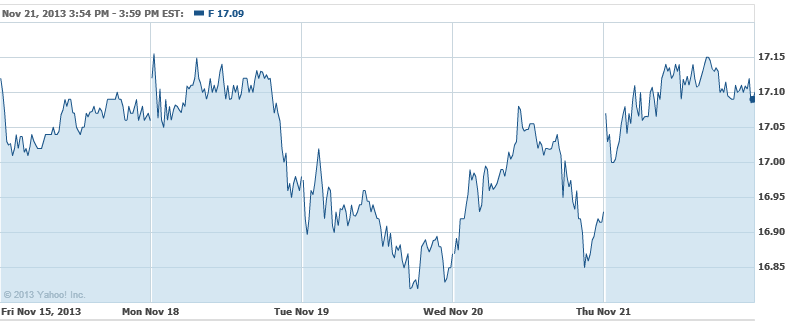 Intel Corp. (NASDAQ:INTC): Current price $25.19
Chief Executive Brian Krzanich has announced that he wants to expand his company's small contract manufacturing division, making way for more chipmakers to access the world's most advanced process tech. With Intel lags rivals in manufacturing chips for smart phones and tablets, and many on Wall Street have pressed the firm to expand its contract manufacturing arm, which presently does not contribute much towards its overall revenue, and to make accessible its factories to high-volume clients making mobile chips.
Krzanich observed to analysts that, "We're going to go much further. If we can utilize our silicon to provide the best computing, we'll do that. People who can use our leading edge and build computing capabilities that are better than anyone else's — those are good candidates for our foundry service."
Don't Miss: Will Microsoft's Xbox One Replicate the PS4′s Success?