Gap Beats Retail Slump, Disney Earnings Hit Record: Market Recap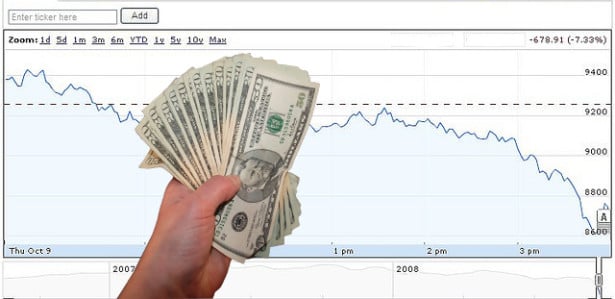 U.S. stocks rose to end the week's trading on a much better-than-expected jobs report that showed evidence the economy may be ready for qualitative easing. The Labor Department report released this morning showed that employers added 204,000 jobs in the third quarter despite the government shutdown in the first half of October. The Federal Reserve said last week that it wants to see more improvement in the economy before cutting back on stimulus.
Gold: -1.57% to $1,287.90 per ounce Oil: +0.23% to $94.42 per barrel U.S. 10-Year: +5.09 to 2.746%
Tapering: Always on the Table, But It's Never Quite Time: On October 30, at the conclusion of a two-day policy meeting, the Federal Open Market Committee announced that it would make no change to its strategy of monetary easing. In order to suppress longer-term interest rates and stimulate business activity, the FOMC, through the Federal Reserve, is purchasing $40 billion worth of agency mortgage-backed securities and $45 billion worth of longer-term securities every month.
What Does the ECB's Rate Cut Mean for the Euro? The European Central Bank's decision to cut its main interest rate has already had major economic ramifications, Bloomberg reports. Earlier this week, the European Central Bank surprised almost everyone by lowering its refinancing rate — its primary interest rate — from 0.5 percent to 0.25 percent, a new historic low.

October's Job Growth Blew Estimates Out of the Water: The Employment Situation Report — released by the Department of Labor's Bureau of Labor Statistics on Friday morning — revealed that total nonfarm payroll employment rose by 204,000 in October, an indication that the 16-day partial shutdown of the federal government did not prevent employers from adding positions to their payrolls at a more robust pace than expected. Even more encouragingly, the September gain was upwardly revised to 163,000 from 148,000.
Here's your cheat sheet to today's top stocks stories:
Lions Gate Entertainment Corp. (NYSE:LGF) reported fiscal second-quarter 2014 results that were mixed, but Lions Gate ultimately ended up walking out of the quarter with a pretty good posture. Revenue declined 29 percent on the year to $498.7 million, missing the mean analyst estimate of $528.85 million. The miss is underwhelming, to say the least, but padded in part by the nature of the comparison. Lions Gate's fiscal second-quarter 2012 included the home entertainment release of The Hunger Games, which is a revenue-generating force of nature.

The Gap, Inc. (NYSE:GPS) shares closed up almost 10 percent after the clothing retailer blew estimates out of the water with a comparable-store sales gain of 4 percent in October, compared to analyst consensus of 0.1 percent. By brand, Gap rose 5 percent, Banana Republic picked up 1 percent, and Old Navy rose 2 percent. The Gap's brick-and-mortar sales were accentuated by a strong performance from Web sales, leading the company to raise its guidance.
Groupon Inc. (NASDAQ:GRPN) said that it will acquire Ticket Monster from LivingSocial in a transaction that should close in the first half of 2014. The purchase price is $260 million, as much as $160 million of which will be paid in Groupon's class A common stock. Ticket Monster is being described by Groupon as "a leading provider of product, local and travel offers in Korea," also mentioning that its annual billings surpass $800 million with over 4 million active customers. The buyer said that the Ticket Monster brand name and its management team will remain following the closing of the transaction.
Twitter Inc.'s (NYSE:TWTR) big day has come and gone. Twitter is now officially public, and the company made its debut on the markets with as much (or more) fanfare than anyone could have predicted. Shares, priced at $26 on the eve of its initial public offering, opened for mid-morning trading at $45.10 and closed Thursday at $44.90. Twitter shares then proceeded to fall 7.24 percent during trading on Friday to close at $41.65.
The Walt Disney Company's (NYSE:DIS) fourth quarter earnings report shone with the word "record" today, reporting diluted earnings per share had increased 13 percent to $0.77 cents per share, up from $0.68 cents per share in the prior-year quarter. Disney's undiluted EPS for the year went up 8 percent to a record $3.38, compared to $3.13 last year. According to Barrons, Disney was expected to report a profit of $0.76 cents per share.
Nvidia Corp. (NASDAQ:NVDA) shares closed up almost 7 percent, as the chipmaker reports EPS of 20 cents, in line with expectations, and revenue of $1.05 billion, missing the $1.08 billion consensus. However, Nvidia will be adding another $1 billion to its buyback plan, for a total of $1.286 billion available for buybacks. The GPU division saw sales fall 2 percent in the third quarter to $876.8 million, as Tegra division sales racked up $111.2 million — up 111 percent over the quarter prior, due to the Tegra 4 ramp up and the Shield console sales, but down 54 percent year-over-year.
Follow Jacqueline on Twitter @Jacqui_WSCS
Don't Miss: How Many Americans Actually Have a Full-Time Job?