Gartner Inc Earnings: Net Income Rises for Fourth Quarter in a Row
Gartner Inc. (NASDAQ:IT) reported its results for the first quarter. Gartner, Inc is an information technology research and advisory company, which offers independent and objective research and analysis on the information technology, computer hardware, software, communications and related technology industries.
Don't Miss: Wall St. Cheat Sheet's newest Feature Trades of the Month!
Gartner Earnings Cheat Sheet for the First Quarter
Results: Net income for the management services company rose to $29.2 million (28 cents/share) vs. $19.4 million (19 cents/share) in the same quarter a year earlier. A rise of 50.5% from the year earlier quarter.
Revenue: Rose 11.4% to $329.6 million YoY.
Actual vs. Wall St. Expectations: IT fell in line with the mean analyst estimate of 28 cents/share. Estimates ranged from 27 cents per share to 30 cents per share.
Quoting Management: Gene Hall, Gartner's chief executive officer, commented, "The momentum we saw in our business during 2010 has continued into 2011. Revenue, contract value, Normalized EBITDA, and EPS all grew at double-digit rates during the first quarter putting us in a great position to deliver on our aggressive full-year growth targets. We remain committed to delivering long-term double-digit growth to both revenue and earnings."
Key Stats:
The company has now seen net income rise in four-straight quarters. In the fourth quarter of the last fiscal year, net income rose 42.7% while the figure climbed 0% in the third quarter of the last fiscal year and 17% four quarters ago from the year earlier.
Competitors to Watch: Forrester Research, Inc. (NASDAQ:FORR), Microsoft Corporation (NASDAQ:MSFT), Google Inc. (NASDAQ:GOOG), Intl. Business Machines Corp. (NYSE:IBM), Nielsen Hldg NV (NYSE:NLSN), Navigant Consulting, Inc. (NYSE:NCI), Information Services Group, Inc. (NASDAQ:III), Harris Interactive Inc. (NASDAQ:HPOL), and Apple Inc. (NASDAQ:AAPL)
Stock Performance: Shares of IT are trading at $42.12 as of May 5, 2011 at 7:25 AM ET, unchanged from the previous close.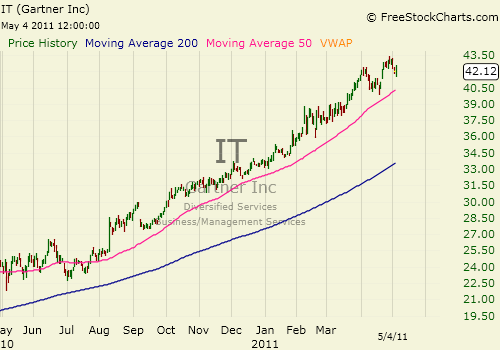 Don't Miss Wall St. Cheat Sheet's newest Feature Trades of the Month!