Gas Prices Leave Chesapeake Energy With a Catch 22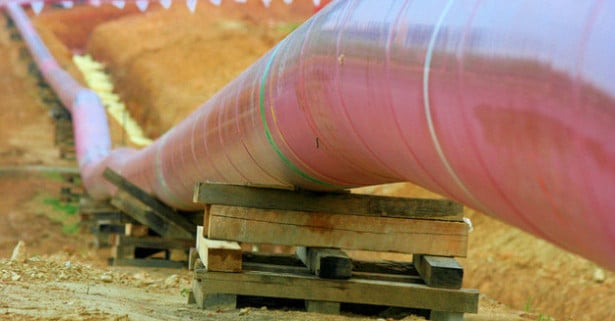 Chesapeake Energy (NYSE:CHK) is burning cash, and the Oklahoma City-based company has been forced to cut deals to cover the approximately $25 billion gap between how much the oil and gas producer spent from 2010 to 2012 and how much cash flowed into its coffers. The problem, according to Wunderlich Securities energy analyst Jason Wangler is that management "expected the world to be different than it is today," as he told the Wall Street Journal.
The vision Chesapeake Energy had for the future of natural gas is one shared by many of its peers. Natural gas was first a boon for domestic energy producers and then an albatross. Hydraulic fracking, a process that cracks rock deep underground to release oil and natural gas, made production possible in many previously untapped shale fields, sparking a land grab. However, during President Barack Obama's tenure in the White House, soaring production of natural gas from horizontal drilling and hydraulic fracking has pushed supplies to record highs for many years. The boom in domestic production of both oil and natural gas provided the United States with 84 percent of its energy requirements last year, the highest annual level since 1991.
But the shale gas revolution also swiftly changed the economics of natural gas. It prompted the industry to launch more than 100 new projects in the past several years specifically aimed at taking advantage of low prices, with investments totaling billions of dollars and 50,000 new jobs created. Now, the United States produces more natural gas than it can use, and as a result, prices have plummeted. The industry is generally profitable when gas is sold between $4 and $6 per thousand cubic feet. It is true that the price of natural gas has edged up as the weather has cold this year, hitting $4.36 per thousand cubic feet on the New York Mercantile Exchange on Monday.
However, the price of natural gas on the low end of that spectrum, and the price is expected to fall in coming months because of limited demand for the fuel. Comparatively, the average price per thousand cubic feet of natural gas was $2.77 last year, a figure 31 percent below the average price in 2011. In 2012, during the worst of the glut, the Henry Hub price dropped below $2 per thousand cubic feet. The spot price for gas is set in the New York futures market, based on trades at a Louisiana collection center known as the Henry Hub. Due to the nature of the financial deals and leasing arrangements for wells, many companies were not able to decelerate drilling fast enough to avoid the crash in the price of natural gas.
Plunging prices, along with disappointing wells, spawned a series of write-downs of oil and gas shale assets for companies like Chesapeake. To offset those write-downs and pay down its heavy debt load, the company has raised billion by selling off pieces of its business: pipelines, oil and gas properties, and even royalties from wells that have not yet been drilled. But, while those sales generated much-needed cash, they also created costs that are only now becoming apparent, producing new problems for Chief Executive Doug Lawler to solve. Lawler, who replaced Aubrey McClendon in June, has pledged to improve company profits and control spending.
The problems are linked to the pipeline business Chesapeake sold off last year in several transactions totaling more than $4 billion. As a condition the $2.16-billion sale of natural gas processing and gathering assets to Access Midstream Partners (NYSE:ACMP), Chesapeake agreed to ship a certain amount of natural gas on those pipelines. But as the company drills fewer new gas wells, Chesapeake has not able to tap enough gas to fill that quota, reported the Journal.  Further, that deficit means that Chesapeake must pay for the service it is not using.
According to an analysis of the company's regulatory filings made by the publication, the company will have to pay at least $400 million to Access over the next five years. That number is only accurate if Chesapeake's wells continue to produce gas at current rates, which is unlikely since production is falling. Chesapeake has spend about 50 percent less on on drilling and leasing so far this year compared to 2012. Plus, oil output has greatly increased, improving the company's cash flow and pushing earnings to almost $1 billion this year through September. That is a great improvement from 2012, a year Chesapeake ended in the red.
Still, Lawler will have to balance the company's need to cut costs with its need to keep the company's commitments from costing too much. In order to reign in spending, Chesapeake has drilled fewer wells, but as Chesapeake drills fewer wells, its commitments will come at a higher cost. For example Chesapeake has allowed the leases on 14,000 acres in the gas-heavy Barnett Shale of North Texas to expire, and as a result, expects to pay $28 million to the French company Total SA (NYSE:TOT), which is its partner in the venture. Both Chesapeake and Total are required to ship a certain amount of gas via the pipelines now owned by Access through 2019, at a rate that increases 2 percent per year. The alternative is that the two companies pay for the gas they do not ship, according to the Journal. Access regulatory filings show Chesapeake and Total have shipped 17 percent less gas than a year ago, and an Access executive estimated in October that the partners would have to pay approximately $50 million in the fourth quarter of this year for not shipping enough gas.
More From Wall St. Cheat Sheet:
Follow Meghan on Twitter @MFoley_WSCS