GE Appliances to Collaborate With U of Kentucky and 2 Dow Movers to Watch
General Electric Company (NYSE:GE): Current price $23.50
GE Appliances and the University of Kentucky will work jointly on research targeted at producing innovations in the appliances unit. University President Eli Capilouto joined executives of GE Appliances to announce the deal on Thursday at GE's Appliance Park in Louisville. The accord sets terms for the licensing and sharing of jointly developed innovations. Vice President Kevin Nolan of GE Appliances said that the partnership will enable the company to access the technical expertise of UK scientists.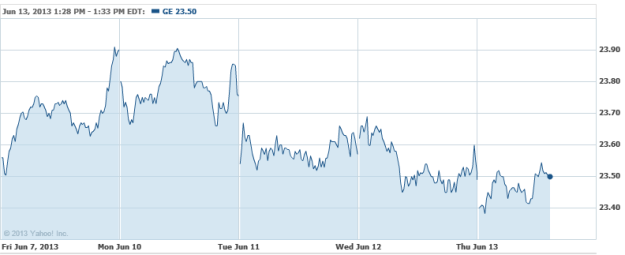 3M Company (NYSE:MMM): Current price $110.26
3M Company's subsidiary 3M Touch Systems announced Thursday that for a limited time, 3M high-performance multi-touch desktop displays will be shipped with a "no charge" coupon through which to redeem the multi-touch authoring solution Gestureworks Core. The latter is now offered linked with 3M's 18.5-, 21.5-, 24"-, and 27-inch multi-touch desktop displays, and the Gestureworks multi-touch software authoring framework gives developers a development platform useful for creating exciting and immersive multi-touch and multi-user interfaces.

Wal-Mart Stores (NYSE:WMT): Current price $75.13
In recent months, the retailing king has been hiring only temporary workers at a number of its domestic stores, marking the first time it has done so outside of the holiday shopping season. A Reuters survey of 52 stores of Wal-Mart stores in May, including one in every state, indicated that 27 were hiring nothing but temps, 20 were hiring a combo of regular full, part-time and temp jobs, and five were not hiring, period. Company spokesman David Tovar revealed that the new hiring policy was implemented to ensure that "we are staffed appropriately," when the stores at their most busy times, and that it is not a cost-reduction move. Tovar added that temporary workers are paid equal starting pay with the other workers.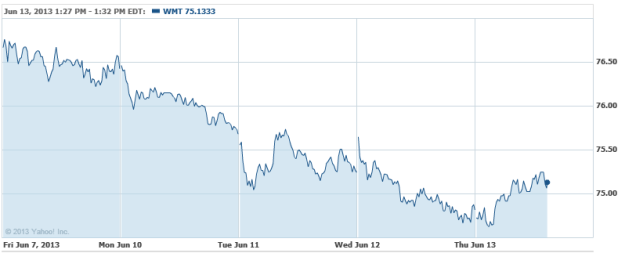 Don't Miss: Why Is ExxonMobil Teaming Up With Russia?