GE Aviation Collaborates with University of Cincinnati And 2 More Heavily Traded Stocks to Follow
General Electric Co. (NYSE:GE): Current price $26.27
GE Aviation announced Thursday that it is working jointly with the University of Cincinnati Research Institute to create the GE Aviation Research Center at the company's headquarters in Evendale, Ohio. The Research Center will permit GE Aviation engineers and scientists to collaborate with university faculty members and students on the Evendale campus to pursue innovations that have direct application on GE's future aviation products. The scope of this accord represents a first in Ohio between a large aerospace firm and a university research institute.

Cisco Systems Inc. (NASDAQ:CSCO): Current price $22.62
According to ISI Group, a potential Cisco purchase of NetApp makes strategic sense and would broaden Cisco's enterprise storage market presence by $50 billion. ISI says that Cisco could buy Netapp at a 40 percent premium in an all-cash offer, and the deal could still be 10 percent pro-forma EPS accretive. NetApp shares are rated at Buy along with a $48 price target.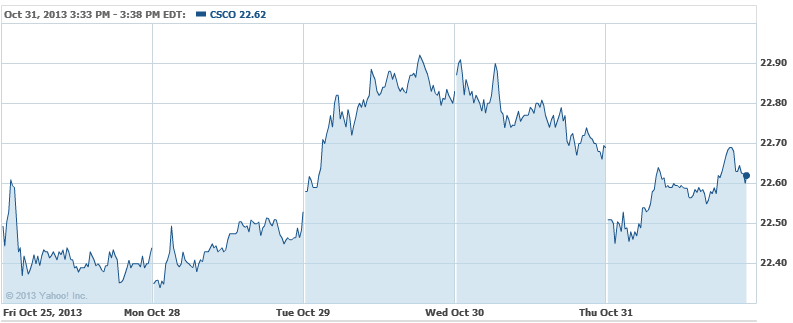 Rite Aid Corp. (NYSE:RAD): Current price $5.29
Despite the fact that 2013 numbers are competing with those in October 2012, when Superstorm Sandy drove customers to give the drugstore chain more business at that time, revenue from established locations rose by 2.1 percent this month. Rite Aid reported Thursday that its pharmacy revenue increased by 3.4 percent in the four weeks through October 26, while revenue from the front end slipped by less than 1 percent. Rite Aid experienced a jump in front-end business last year in the days prior to Superstorm Sandy moving up the East Coast.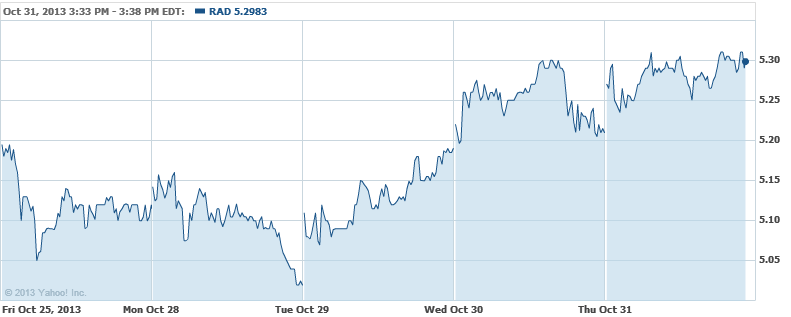 Don't Miss: Exxon Mobil Is Feeling the Pressure of High Drilling Costs.