GE Could Value Its Money Bank At $1.76 Billion and 2 Other Dow Movers To Watch
General Electric Co. (NYSE:GE): Current price $24.26
As GE pulls back from the financial sector, it is estimated that the flotation of its GE Money Bank could value the Swiss consumer finance unit at as much as 1.53 billion Swiss francs, or $1.67 billion. On Wednesday, GE Money Bank hopes to raise as much as 1.05 billion Swiss francs from the share sale, in what will be Switzerland's first flotation in a year. GE Capital intends to sell up to 18 million shares or 60 percent of Money Bank, which is based in Zurich.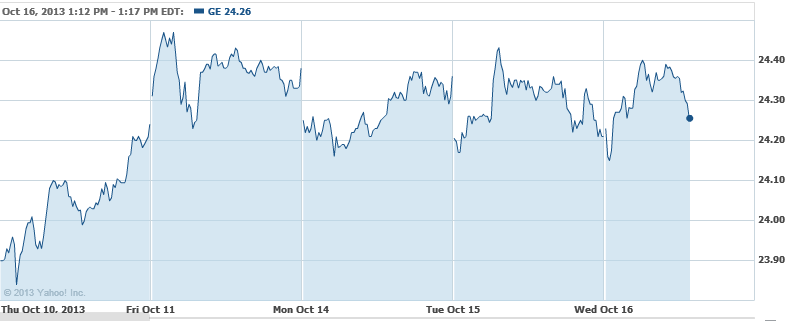 3M Co. (NYSE:MMM): Current price $120.26
On Wednesday, 3M New Ventures reported an equity investment in TaKaDu, which provides advanced analytics services to oversee water networks. The cloud-based solution offered by TaKaDu employs available raw network data and utilizes sophisticated analytics to detect and predict network issues, enhance incidence response times, and monitor and mitigate operational issues in the water grid. Financials of the transaction were not reported.

Pfizer Inc. (NYSE:PFE): Current price $29.54
The Pfizer Foundation and the national association of funders Grantmakers In Aging, have announced a second year of funding amounting to $1.3 million for Community AGEnda, which is an initiative aimed at assisting American communities to become more age-friendly, meaning better places to grow up and grow old. The award will support grants of as much as $140,000 from GIA to each of the five participating Community AGEnda communities, in Arizona, Florida, Georgia, Indiana, and greater Kansas City. Funding for Community AGEnda is given GIA by the Pfizer Foundation.

Don't Miss: Big Oil Breaks Out Legal Guns Over Ethanol.