GE Expands Uses for 3D Printers and 2 Other Dow Movers to Watch
General Electric Co. (NYSE:GE): Current price $22.86
GE announced to IBD that it is expanding the uses for 3D printers and anticipated that the emerging tech should "touch" over one half of its manufacturing in the next 20 years. Having business segments in medical equipment, aviation, energy tech, and home appliances, the conglomerate's growing adoption of "additive manufacturing" could revolutionize the printer makers 3D Systems, Stratasys, and ExOne along with domestic industry overall. Less than 10 percent of GE's manufacturing employs 3D printing in some form currently, although that share should increase to between 20 and 25 percent in 10 years, and to 50 percent or more in 20 years.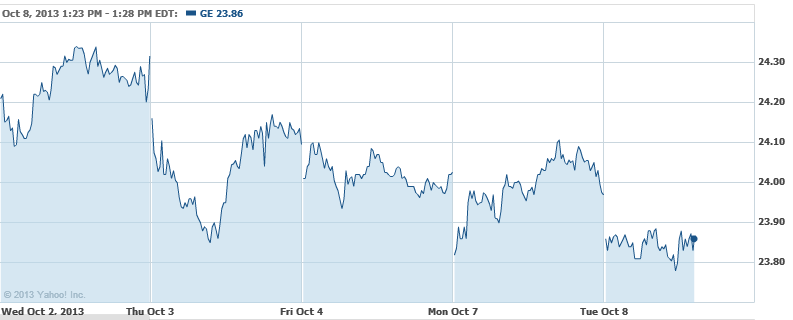 Proctor & Gamble Co. (NYSE:PG): Current price $76.81
Analyst Chris Ferrara at Wells Fargo raised Procter & Gamble's rating on Tuesday from Market Perform to Outperform, explaining that a recent leadership change and cost reduction endeavors should help to improve the historic company's business. Ferrara said that although some may be dubious in regards to Chief Executive A.G. Lafley being reinstalled at P&G, the change could make a difference, as he observed that,"We believe that even if the basic strategy is similar, leadership at the top matters, particularly for such a complex, sprawling organization as Procter & Gamble," in a note to clients.

3M Co. (NYSE:MMM): Current price $118.15
On Tuesday, 3M announced a new line of hand protection. Created with electricians  and contractors in mind, the new 3M Comfort Grip and Gripping Material work gloves give physical protection from cuts, punctures and abrasions, while increasing dexterity and grip. The Occupational Safety and Health Administration reports that the potential for hand injury exists for 4.7 million workers and full hand protection compliance could prevent 712,000 lost workdays annually. The Comfort Grip and Gripping Material line of gloves from 3M meets  both needs and is available in three different models, depending on the application needed.

Don't Miss: Dish and DirecTV: Two Different Strategies to Stay Relevant.