GE Forms JV In Russia For Mini Power Plants and 2 Other Hot Stocks to Watch
General Electric Company (NYSE:GE): Current price $24.33
On Tuesday, it was announced that GE will create a joint venture with Russia's state-funded private equity vehicle Russian Direct Investment Fund, through which to build mini power plants across Russia. For over 20 years, the American company has been active in that country, providing signaling systems to the rail network, medical equipment to hospitals, and credit via its GE Money Bank. The mini power plants are low-power co-generation systems that generate as much as 25 megawatts, and are constructed independently of the federal power grid, thus without the need for transmission lines.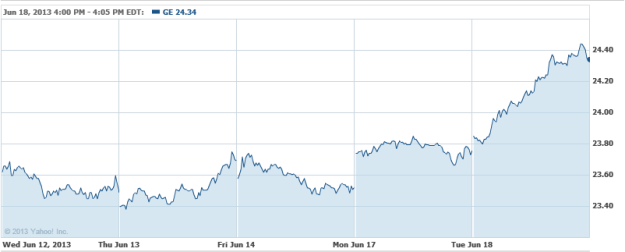 Elan Corporation (NYSE:ELN): Current price $13.80
Elan now advises its shareholders to immediately withdraw any acceptances of Royalty Pharma's bid, and to not tender any others. Subsequent to the outcome of the Elan EGM Monday morning, and pursuant to the terms of the Royalty Pharma offer, the latter has now lapsed. Withdrawal of acceptances will make certain that the shareholders are in a position to participate in the benefits of the formal sale process which has now begun.

Facebook (NASDAQ:FB): Current price $24.20
Traveling to Seoul hoping to give advertising sales a push from mobile devices, Chief Executive Mark Zuckerberg discussed potential partnerships with Samsung Electronics Co., said the chief of the South Korean firm's handset division. In addition, Zuckerberg and the Samsung President Shin Jong Kyun talked about the condition of the information-tech industry, said Shin, but Zuckerberg exited the building without answering questions. The Facebook CEO has promised to invest in products that will benefit investors who are disappointed by the 37-percent fall in share prices since the initial public offering in May of last year, and  is attempting to get users to spend more time on its mobile services.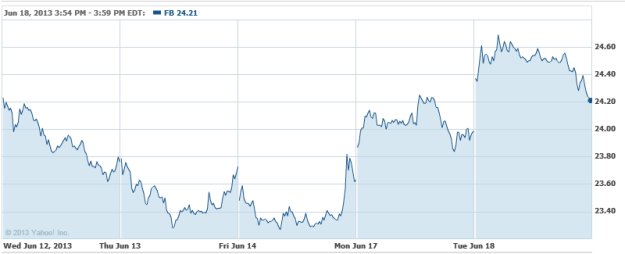 Don't Miss: Here's How Market Optimists Won the Day.