GE Healthcare Partners With Yankee Alliance and 2 Other Dow Movers to Watch
General Electric Co. (NYSE:GE): Current price $26.88
General Electric Healthcare and Yankee Alliance announced on Tuesday an exclusive, 3-year purchasing arrangement through which to offer General Electric's Hospital Operations Management portfolio to Yankee Alliance's 164 acute care facilities in the Eastern United States. The portfolio will contain products and solutions that address patient flow and logistics; safety and compliance; and asset management. The HOM portfolio assists hospitals in the elimination of operational inefficiencies in their care delivery process, and replaces disparate operational systems having a single control system that functions in a manner like an air traffic control system.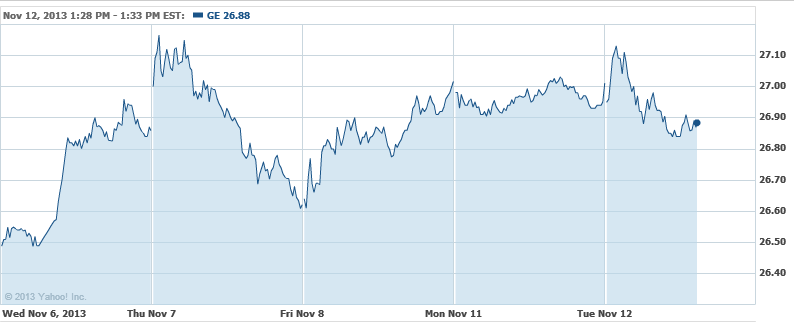 Wal-Mart Stores Inc. (NYSE:WMT): Current price $78.72
In what has become a competition among  the big retailers this year, Wal-Mart is the most recent member of the group to announce an even earlier kick-off to annual Black Friday weekend sales, starting at dinnertime on Thanksgiving evening. Wal-Mart said on Tuesday that it will conduct two major sales events at 6 p.m. and 8 p.m. Thursday evening, which is two hours earlier than in 2012. With the six-day-shorter shopping season, and low rates of consumer confidence after the government shutdown, the big stores seem to be in for extremely hectic weeks to come.

United Technologies Corp. (NYSE:UTX): Current price $107.41
On Tuesday, Carrier reached an agreement with Robert Bosch North America Corp. to create a joint venture to develop and manufacture geothermal and water-source heat pumps for the North American residential and commercial segments. The transaction closing is pending the mandatory regulatory approvals, and financials of the agreement were not divulged. Carrier forms a part of UTC Building & Industrial Systems, a division of United Technologies Corp.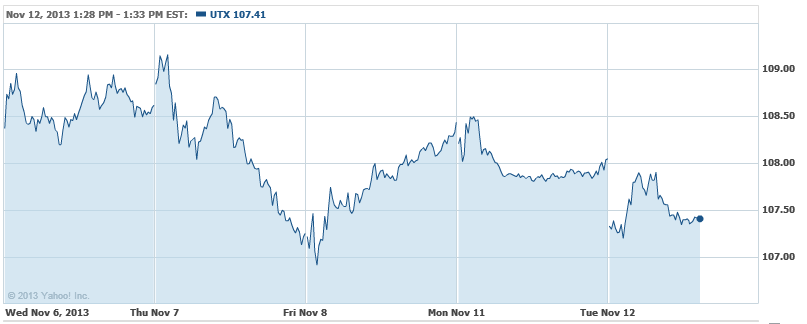 Don't Miss: Big Pharma and Big Tobacco Won't Control the Marijuana Industry.