GE Might Spin Off GE Capital and 3 Dow Movers to Watch on Wednesday
Chevron Corporation (NYSE:CVX): Current price $120.44
Around ten years ago, Chevron's market capitalization stood at $70 billion, half that of Royal Dutch Shell (NYSE:RDSA). Currently, Chevron is worth $232 billion, surpassing Shell's $215 billion. The lead appears sustainable, and highlights important differences in the two oil majors' strategies and performance, according to The Wall Street Journal's Heard on the Street. For the most part, Chevron has grown without sacrificing returns.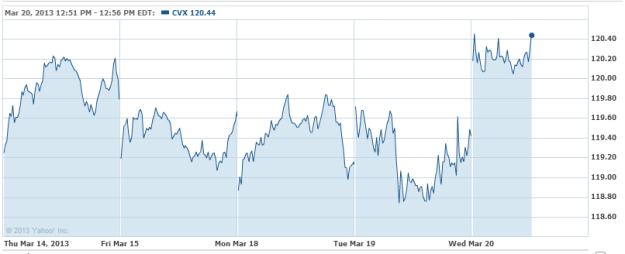 The Walt Disney Company (NYSE:DIS): Current price $56.69
Universal Music Group and the Disney Music Group, which includes Hollywood Records, Walt Disney Records and Disney Music Publishing, have broadened their continuing relationship through a new long-term global commercial and creative accord. The agreement covers both physical and digital rights almost globally and, for the first time, allows for close creative collaboration between the two firms.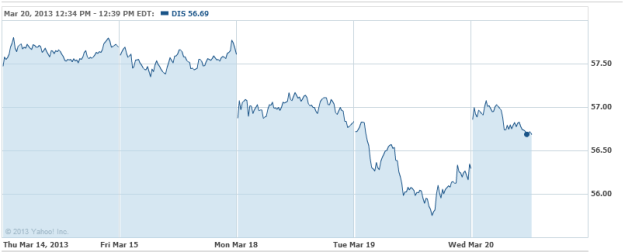 The General Electric Company (NYSE:GE): Current price $23.41
General Electric Chief Executive Jeff Immelt said that his firm might consider spinning off GE Capital in order to simplify the corporate structure, but added that no such plans are presently in place, according to Dow Jones. Immelt commented that  "we always look at what are the right capital market alternatives for the company and what makes sense for where we are. We sold our media business, right."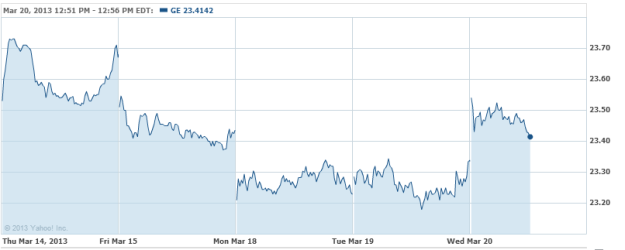 Intel Corporation (NASDAQ:INTC): Current price $21.16
According to DigiTimes, Intel will maintain its Cedar Trail M platform for its Classmate Personal Computers. The notebook will be available until at least the first quarter 2014, say sources with Taiwan-based notebook supply chain makers.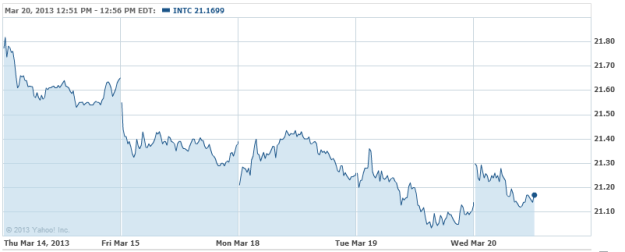 Don't Miss: EIA: U.S. Oil Production Will Surpass Imports in 2013.