GE Oil & Gas Wins Statoil Contract and 2 Other Dow Movers to Watch
General Electric Company (NYSE:GE): Current price $24.23
Norway's Statoil has awarded GE Oil & Gas a $147-million engineering, procurement and construction contract, through which GE will provide sub-sea production and injection equipment for Statoil's Snøhvit carbon dioxide injection project, which was formed to create a robust CO2 solution. Delivery of the equipment should occur during the second quarter of 2015.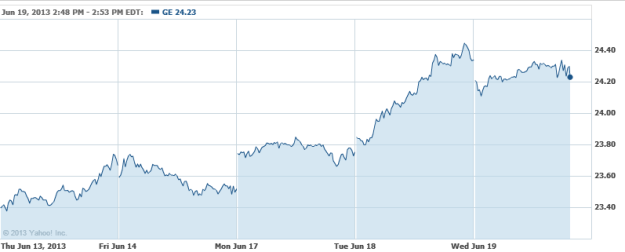 Microsoft Corporation (NASDAQ:MSFT): Current price $34.92
Several sources indicate that the software giant is set to switch from Nvidia processors to one of Qualcomm's new devices, as it upgrades the operating system software to Windows 8.1. Presently, Microsoft is testing newly-updated Surface tablets that employ Qualcomm's new line of micro-processors, along with their upcoming "800″ series chip. One of the inside sources believes that Microsoft may also continue to use Nvidia's Tegra 3 chips in some of their RT tablets, and perhaps even use the next generation Tegra 4 processors in future devices.

Procter & Gamble Co. (NYSE:PG): Current price $78.56
The iconic consumer company and fashion label Alexander McQueen announced Wednesday that P&G Prestige will enter into a license agreement with the former to make and sell designer fragrance products. Effective at once, P&G will commence the development and marketing of fragrances under the Alexander McQueen brand name, so as to expand its business into the fine fragrance category. Signing the Alexander McQueen fragrance license is consistent with P&G Prestige's current strategy of growing the division with strong brands with world leadership potential. For its part, Alexander McQueen complements P&G's existing designer fragrance portfolio and builds upon its luxury fragrance brands portfolio.

Don't Miss: The 8 Least Expensive Places To Live in the U.S.